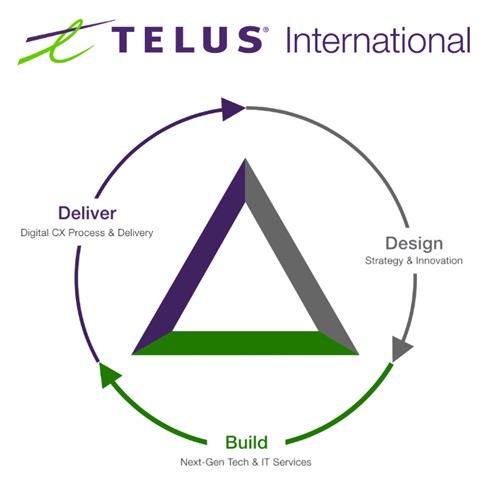 As an existing TELUS Corporation (T) shareholder, I was recently reviewing its Q4 and FY2020 results which were released February 11, 2021. While reviewing the recently released results I decided to investigate TELUS International (Cda) Inc. (TIXT), the customer experience and IT consultant subsidiary of T, which went public February 3, 2021 via an Initial Public Offering (IPO) on the TSX and NYSE by issuing subordinate voting shares.
The share structure consists of subordinate voting shares and multiple voting shares with the rights of the holders of subordinate voting shares and multiple voting shares being generally identical except with respect to voting and conversion; the subordinate voting shares have one vote per share and the multiple voting shares have 10 votes per share. The subordinate voting shares are not convertible into any other class of shares, while the multiple voting shares are convertible into subordinate voting shares on a one-for-one basis at the option of the holder and automatically upon the occurrence of certain events.
On February 5, 2021, TIXT closed the IPO and the exercise of the underwriters' over-allotment option. Distribution of the proceeds from the IPO can be found here and on page 81 of 499 of the Prospectus.
Business Overview
TIXT is a leading digital customer experience innovator that designs, builds and delivers next-generation solutions for global and disruptive brands.
Over the last 15 years, while it has been incubating under the T umbrella, TIXT has built comprehensive, end-to-end capabilities with a mix of industry and digital technology expertise to support clients in their customer experience and digital enablement transformations. Its solutions and services are relevant across multiple markets, including IT services for digital transformation of customer experience systems and digital customer experience management.
A comprehensive overview of the
business;
industry;
market opportunity;
company's approach;
competitive strengths;
growth strategy;
solutions and services;
delivery model;
clients;
and competition
can be found commencing on page 150 of 499 of the Prospectus.
It tailors solutions that it delivers to a variety of industries (Tech and Games, Communications and Media, eCommerce and FinTech, Travel and Hospitality, and Healthcare).
TIXT has over 600 customers, operates in 20+ countries, has ~50,000 employees and, in conjunction with its recent IPO, announced that it generated over $1.5B in revenues in FY2020 arising from contracts with customers. For the first 9 months of FY2020 the top 20 clients generated 73.7% of the revenue with Telus and Google being the largest clients.
In a recent interview with Jeff Puritt, President and CEO of TIXT, we see that TIXT has grown from a provider of customer contact-centre services for other companies to a big, diverse digital services company with 50,000 employees and operations in 20+ countries that provides an ever-growing list of services to more than 600 clients, including marquee names like Google, Dish, Zynga, PayPal, Dell Financial Services, Airbnb, Uber, and TikTok. The services TIXT provides now include things like app development, fraud protection, social media monitoring and chat-bots.
On page 23 of 499 of the Prospectus, we see that TIXT is a profitable company. This is a refreshing change from so many other unprofitable companies which have recently gone public via an IPO or a special purpose acquisition company (SPAC).
According to Mr. Puritt, the plan is to keep growing through acquisitions, new clients, and deeper relationships with existing clients. In fact, one key acquisition (Lionbridge AI) is still pending as TIXT awaits sign-off by U.S. regulators; Lionbridge AI specializes in artificial intelligence learning by 'tagging' data with information that helps AI systems to better understand the flows of data they take in. Details on Lionbridge AI can be found commencing on page  91 of 499 in the Prospectus and in the November 2020 Press Release in which T announced its agreement to acquire Lionbridge AI through TIXT.
Preliminary Q4 and FY2020 Results

On January 25, 2021, TIXT disclosed its preliminary and unaudited estimates of selected results for Q4 and FY2020 as of December 31, 2020 in connection with its February 3, 2021 IPO. Details can be found here.
Credit Ratings
A check of the major rating agency websites finds no coverage by Moody's, SPGI, and Fitch.
Dividends and Dividend Yield

Page 82 of 499 of the Prospectus indicates:
'We have never declared or paid dividends on our subordinate voting shares. We currently intend to retain all available funds and any future earnings to support operations and to finance the growth and development of our business. As such, we do not intend to declare or pay cash dividends on our subordinate voting shares in the foreseeable future.'
Valuation
I typically analyze a company's results and guidance relative to the current share price to assist me in determining whether I can acquire shares at a valuation that will provide me with a reasonable opportunity to generate an attractive long-term investment return.
In the case of TIXT, I am dispensing with such a review since audited financial results are not yet available and I envision TIXT's numbers will change dramatically in the short term. I expect US regulators to complete their review of Lionbridge AI within the next 3 months and I fully expect TIXT will be in acquisition mode in 2021 which could significantly change the company's financial position and earnings potential relatively soon.
Final Thoughts
I like TIXT's growth potential and have acquired 400 shares @ $39.45/share for one of the 'Core' accounts within the FFJ Portfolio.
The shares of newly created publicly listed companies I have acquired over the years have typically come by way of spin-offs from companies in which I was an existing shareholder. The only time I have ever outright initiated a purchase in a newly created public company was when I acquired shares in Visa Inc. (V) almost immediately after it went public; V has since become my largest holding. I have no idea whether I will have similar success with TIXT as I have had with V but I envision TIXT will be a far more valuable company several years into the future than it is today.
Stay safe. Stay focused.
I wish you much success on your journey to financial freedom!
Note: Please send any feedback, corrections, or questions to [email protected].
Disclosure: I am long TIXT and T listed on the TSX and V.

Disclaimer: I do not know your individual circumstances and do not provide individualized advice or recommendations. I encourage you to make investment decisions by conducting your own research and due diligence. Consult your financial advisor about your specific situation.
I wrote this article myself and it expresses my own opinions. I do not receive compensation for it and have no business relationship with any company mentioned in this article.