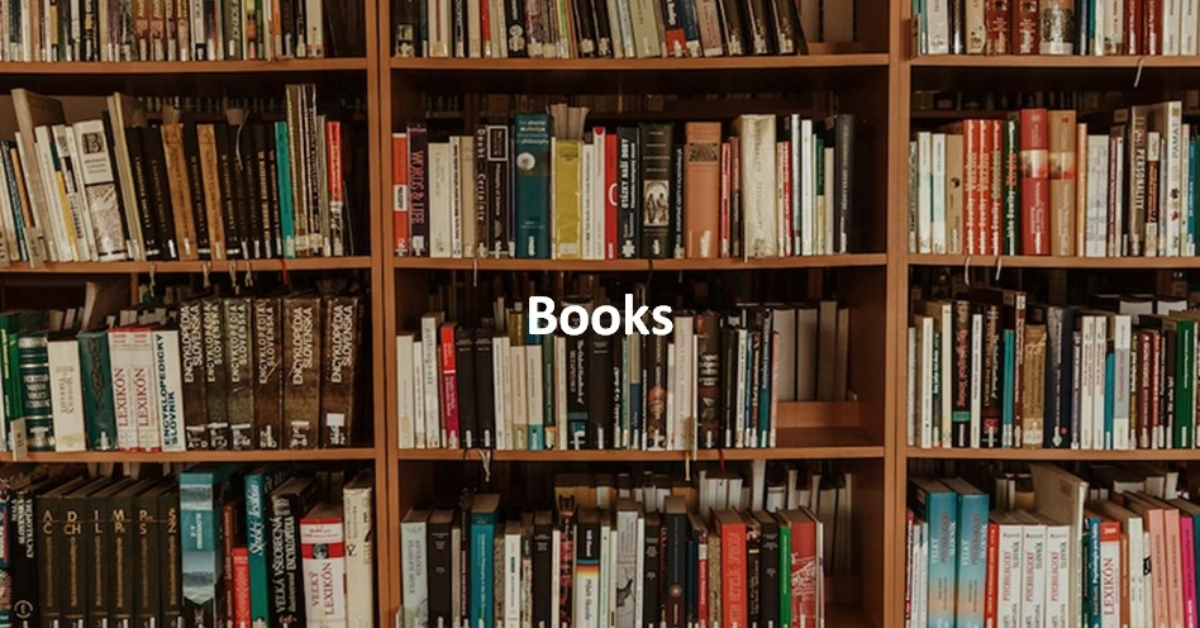 I try to be disciplined as opposed to ordering every book I think might be interesting. In some cases, I may read a book only once. For the most part, however, I may re-read in whole or in part, the books I have in my office. I can breeze through some books but some are a 'challenge'; I have to read them a chapter at a time and sometimes with several days in between each chapter.
Rather than try to create some sort of finished list of books, my plan here is simply to share a selection of books I have found to be entertaining and/or thought-provoking.
This list is not complete or in order.
100 Baggers: Stocks that Return 100-to-1 and How to Find Them by Christopher Mayer
100 to 1 in the Stock Market: A Distinguished Security Analyst Tells How to Make More of Your Investment Opportunities by Thomas William Phelps
The Millionaire Next Door: The Surprising Secrets of America's Wealthy by Thomas J. Stanley Ph.D. and  William D. Danko Ph.D  
The Next Millionaire Next Door: Enduring Strategies for Building Wealth by Thomas Stanley, and Sarah Fallaw
The Little Book That Still Beats the Market by Joel Greenblatt and Andrew Tobias
Common Stocks and Uncommon Profits and Other Writings by Philip A. Fisher and Kenneth L. Fisher
The Single Best Investment: Creating Wealth with Dividend Growth by Lowell Miller
If You Can: How Millennials Can Get Rich Slowly by William J Bernstein
Titan - The Life of John D. Rockefeller, Sr. by Ron Chernow
The Prize - The Epic Quest for Oil, Money & Power by Daniel Yergin
The World For Sale - Money, Power, and the Traders Who Barter The Earth's Resources by Javier Blas and Jack Farchy
Billion Dollar Whale - The Man Who Fooled Wall Street, Hollywood, and the World by Tom Wright and Bradley Hope
Conspiracy of Fools - A True Story by Kurt Eichenwald
Chaos Kings - How Wall Street Traders Make Billions In The New Age Of Crisis by Scott Patterson
Plunder - Private Equity's Plan To Pillage America by Brendan Ballou
Junk to Gold - Lessons I Learned as told by Willis Johnson - founder of Copart (CPRT) and written by Marla J. Pugh
Richer, Wiser, Happier: How the World's Greatest Investors Win in Markets and Life by William Green
The Education of a Value Investor - My Transformative Quest for Wealth, Wisdom, and Enlightenment by Guy Spier
Black Edge - Inside Information, Dirty Money, and the Quest to Bring Down the Most Wanted Man on Wall Street by Sheelah Kolhatkar
Moneyland - The Inside Story Of The Crooks And Kleptocrats Who Rule The World by Oliver Bullough
Fooling Some of the People All of the Time, A Long Short (and Now Complete) Story, Updated with New Epilogue by David Einhorn
The Box: How the Shipping Container Made the World Smaller and the World Economy Bigger - Second Edition by Marc Levinson

Shoe Dog: A Memoir by the Creator of Nike by Phil Knight
Creating a Portfolio like Warren Buffett: A High Return Investment Strategy by Jeeva Ramaswamy
Tap Dancing to Work: Warren Buffett on Practically Everything, 1966-2013 by Carol J. Loomis
The Snowball: Warren Buffett and the Business of Life by Alice Schroeder
Warren Buffett on Business: Principles from the Sage of Omaha by Richard J. Connors
Daring to Succeed: How Alain Bouchard Built the Couche-Tard & Circle K Convenience Store Empire by Guy Gendron

Built from Scratch: How a Couple of Regular Guys Grew The Home Depot from Nothing to $30 Billion by Bernie Marcus, Arthur Blank, and Bob Andelman
Damn Right!: Behind the Scenes with Berkshire Hathaway Billionaire Charlie Munger by Janet Lowe
Liar's Poker by Michael Lewis
Principles for Dealing with the Changing World Order: Why Nations Succeed and Fail by Ray Dalio
The House of Morgan: An American Banking Dynasty and the Rise of Modern Finance by Ron Chernow
The Most Important Thing Illuminated: Uncommon Sense for the Thoughtful Investor by Howard Marks and Bruce Greenwald
Mastering The Market Cycle: Getting the Odds on Your Side by Howard Marks
A Short History of Financial Euphoria by John Kenneth Galbraith
The Spider Network: How a Math Genius and a Gang of Scheming Bankers Pulled Off One of the Greatest Scams in History by David Enrich
When Genius Failed: The Rise and Fall of Long-Term Capital Management by Roger Lowenstein
King of Capital: The Remarkable Rise, Fall, and Rise Again of Steve Schwarzman and Blackstone by David Carey and John E. Morris
What It Takes: Lessons in the Pursuit of Excellence by Stephen A. Schwarzman
The Undoing Project: A Friendship That Changed Our Minds by Michael Lewis
Charlie Munger: The Complete Investor by Tren Griffin
The Invisible Gorilla by Christopher Chabris and Daniel Simons
Nobody's Fool - Why We Get Taken In And What We Can Do About It by Daniel Simons and Christopher Chabris
I wish you much success on your journey to financial freedom!
Note: Please send any feedback, corrections, or questions to [email protected].
Disclaimer: I do not know your circumstances and do not provide individualized advice or recommendations. I encourage you to make investment decisions by conducting your research and due diligence. Consult your financial advisor about your specific situation.
I do not receive compensation for any books nor from any author mentioned herein.