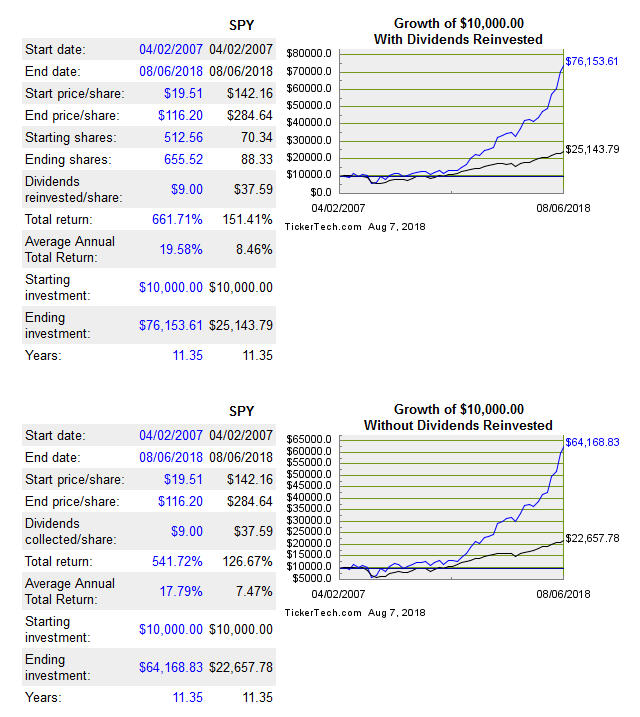 There should be no need to speculate by investing in less than stellar companies. Invest in good solid companies and approach your investments like you are a business owner.
Summary
This company recently released its Q4 and FY2018 results and Mr. Market responded with a +11% increase in the company's stock price.
The Board approved a 33% increase in the annual dividend and the dividend's compound annual growth rate since going public in 2007 is ~33.6%.
Diluted EPS growth of 12% - 16% is projected for FY2019.
FY18 Free Cash Flow of ~$0.6B included $41 million from excess tax benefits from stock-based compensation. FY2019 FCF is projected to be $0.565B - $0.615B.
Long-term shareholders have generated significant returns but I view this stock's current valuation to be somewhat stretched.
Introduction
Over the course of the past year I have written several articles about this company (February 9, 2017, May 13, 2017, August 11, 2017, February 9, 2018, and July 16, 2018). In the first 4 articles I highly recommended this company as an attractive investment for investors with a long-term outlook.
In June 2018 this company was added as a member of the S&P 500. In my July 16, 2018 article I expressed caution that by becoming a component of this index, it was likely going to receive much more investor attention and this somewhat of a hidden gem would no longer be hidden. As it was, I felt that this company had become somewhat overvalued and investors should become cautious if they were thinking of initiating / adding shares in this company.
I also indicated that I expected this company to announce at least a ~10% increase in its annual dividend when it released its FY2018 results.
Well….Q4 and FY2018 results have been released and guess what happened? The stock jumped over 10% and the dividend….it was increased 33%!
This is insane!
The company was spun off from a larger company in 2007 at which time I received a few hundred shares. With the subsequent purchase of additional shares my average cost is USD ~$34 and shares are now trading just shy of $128. While that's all well and good, a company has no control over its stock price as the stock price is based on the law of supply and demand. What really impresses me is that shortly after this company's IPO in 2007, its initial dividend was $0.06/quarter. Now? $0.485/quarter. That is a ~33.6% compound annual growth rate. I NEVER received a pay raise of this magnitude over this timeframe in my entire career!
And investors make speculative investments in the hopes of striking it rich!
Are you kidding me? Why speculate when you can invest in great companies that have a proven business model and which generate considerable Free Cash Flow (FCF) so they can reward investors which generous dividend increases? I would much prefer to sit back and do nothing versus continually monitoring my investments hoping that they increase in value. Who needs more stress in their life?
If you look at the top of this article you will see how this company has performed relative to the S&P500 since going public. Please note that the website from which I obtained this graph has not yet been updated as at the time this article is being composed to account for the August 7, 2018 surge in the company's stock price.
I am certainly not telling you what to do with your money. Your money is your money so do as you see fit. If you want to shorten your journey to financial freedom, however, you may want to put this company on your radar.
The stock might be somewhat richly valued at this stage (in my opinion) but if we get a long overdue market correction, this company's stock price will likely retrace to a more reasonable valuation at which time I would 'back up the truck'.
Please click here to read the complete version of this article.
Members of the FFJ community can access reports I generate on high quality companies which add long-term shareholder value. In an effort to help you determine whether my offering is of any value to you I am pleased to offer 30 days' free access to all sections of my site. No commitments. No obligations. That's 30 days from the time you register at absolutely no cost to you!