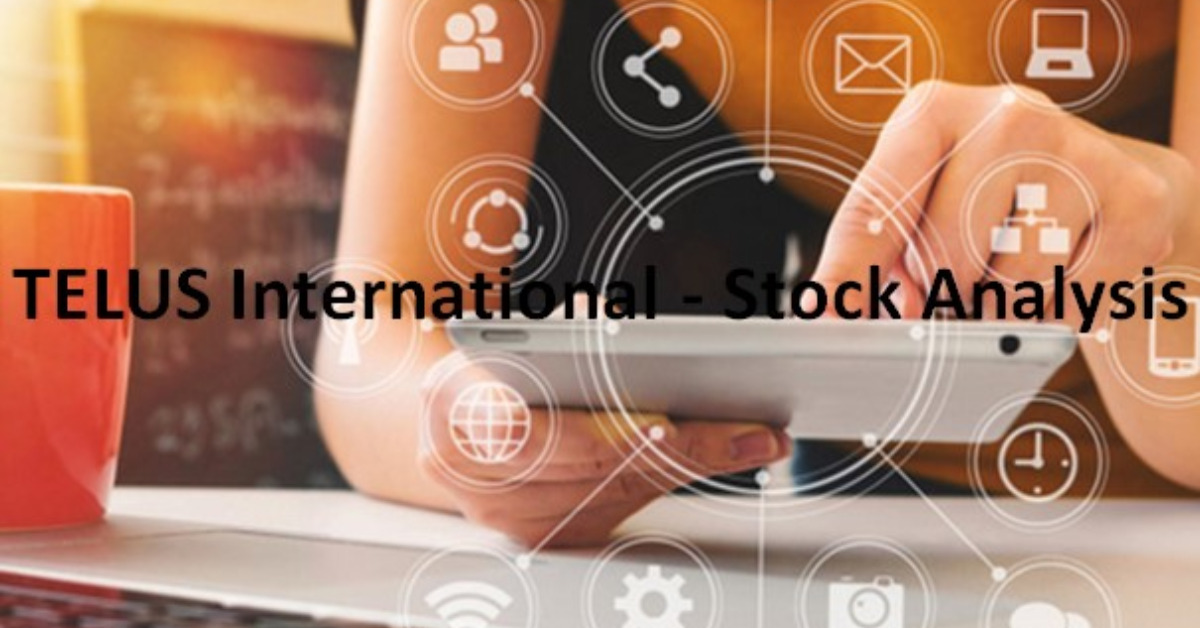 When I disclosed a position in TELUS International (Cda) Inc. (TIXT) in my February 16, 2021 post, I envisioned innumerable artificial intelligence (AI) powered services and solutions opportunities for TIXT to partner with clients to achieve game-changing, industry-disrupting and market-leading brand experiences.
In this brief post, I examine what has transpired after my February purchase.
TELUS International - Stock Analysis
New Business Highlights
Recent new business wins demonstrate that TIXT's AI solutions are helping clients optimize results and improve the effectiveness of advertising campaigns. Its annotators provide the critical data that enables them to place ads in the most relevant positioning for users in different countries, languages and cultures.
The following are some of TIXT's recent business highlights.
One of TIXT's multinational tech giant clients with over 150 million global active users per month partnered with it to train, test and scale their voice-controlled virtual assistance. This virtual assistant can schedule appointments among many other useful tasks and can now understand and perform tasks in more than a dozen new languages. TIXT started with data annotation, including pronunciation checks and validation, to teach the advanced speech recognition system. This entailed collecting massive amounts of data by generating thousands of sentence variations. These were then recorded by native speakers before being loaded into the client's AI system.
TIXT also uses a voice grammar Extensible Markup Language (XML) that contains a set of rules developed by its computational linguists to ensure the AI algorithm properly identifies the inputs. This extremely complex undertaking required significant expertise and TIXT's specialized technology capabilities.
TIXT's digital solutions team is currently working with one of the world's largest providers of agriculture products and services. This client has grown rapidly through acquisition and currently has an inefficient mix of resources. It has hired TIXT to develop a new end-to-end employee experience that includes a cloud-based platform that modernizes interactions with an entire suite of digital solutions.
Another example of TIXT's technology in action is the work performed to help an enterprise customer develop an AI system that automatically recognizes receipts and invoices from over 20 countries. The information from these receipts and invoices is then converted into text for further processing in an extremely rapid and efficient manner. This initiative entailed completing the collection and annotation of thousands of receipts and invoices from different companies globally to train the client's AI system. This application can also be scaled and used by any business for expense management or company invoicing, or anything that requires paper documents or inputs to be automatically translated into digital form for processing by an AI engine.
TIXT is also working with a leading IT company based in Asia in the development of its AI emotion analysis algorithm. The purpose of the AI emotion analysis algorithm is to help the client's bots recognize emotion to sound more human during interactions with customers. TIXT's team collected and labelled thousands of written question-and-answer sets for emotional intent that were then used to train the client's bots to understand emotions. This particular client already has plans to develop future bot iterations that will use voice and facial recognition technology to identify customers' emotions.
Playment Acquisition
On July 2, 2021, TIXT's acquired enhanced image and video annotation capabilities through its purchase of Playment. Playment is a Bangalore, India-based leader in computer vision tools and services specialized in 2D and 3D image, video and LiDAR (light detection and ranging). LIDAR is a remote sensing method that uses laser pulses to measure variable distances to power, evolve and disrupt applications in such fields as healthcare and agriculture. It is also used in the creation of smarter consumer products and services.
Playment has numerous adjacencies to TIXT's existing data annotation capabilities that were added through the December 31, 2020 Lionbridge acquisition; the Lionbridge division has been rebranded to TELUS International AI Data Solutions.
Currently, TIXT operates one of the largest data annotation platforms of its kind globally. With data collection and labelling typically representing ~80% of the work on any given AI project, TIXT is well-positioned on the AI and machine learning value chain.
The Playment acquisition now positions TIXT to win even more business from the leading IT company based in Asia mentioned earlier.
One particular payment client is currently leveraging TIXT's computer vision capabilities in its vehicles using robotics. This application requires an AI system to be able to recognize street signs, traffic patterns, and driving rules and the system must also learn to use judgment to avoid risks with people and objects on the road.
Where TIXT plays a role is in labelling a significant number of images and video data. All this information is captured from cameras and sensors to train the AI system to achieve effective self-driving and delivery capabilities. Although the autonomous vehicle market is still developing, computer vision technology also has applications in more traditional industries such as farming and mining.
TIXT is, for example, is creating training data sets of images of safety goggles, harnesses, vests and other equipment worn properly and improperly. Using these images and multiple cameras located deep inside mines, information can feed into an algorithm that can identify when workers are not following regulations to alert leaders in real-time to avoid potentially dangerous situations, reduce injuries and minimize costly disruptions and delays.
TIXT is also leveraging its AI data annotation capabilities to further enhance its market-leading content moderation services. This is an area of business that is experiencing tremendous growth with the explosion of user-generated content that is increasingly attracting regulatory attention to keep the online world safe and trustworthy.
One example of TIXT's work in this area is the work it performs for a leading social media giant to monitor the integrity of its user-generated data. The topic of fake data around the effectiveness of COVID-19 vaccines and other health-related topics is currently a highly sensitive area. TIXT's team of annotators evaluates and rates news and information for relevance, accuracy and integrity to ensure users are not provided with false or misleading information.
While content moderation has traditionally been a market more heavily skewed to tech hyperscalers (eg. Amazon, Apple, Facebook, Google, IBM, Digital Realty, Microsoft, Equinix, Nvidia, and Oracle), TIXT is also seeing an increased appetite among clients in the enterprise and mid-market segments that have growing digital communications platforms to optimize, manage and monitor.
Demand for Labour Landscape
On the Q2 earnings call, TIXT's President and CEO raised the topic of the increasingly competitive demand for talent landscape; this subject matter has been raised by many other companies.
TIXT remains vigilant in assessing any emerging trends in its key labour markets around the globe. Attrition is higher than the same timeframe in 2020. TIXT, however, has not seen any significant elevation in attrition from 2019 pre-pandemic levels.
TIXT's total workforce grew by 4,784 in Q2 to 56,171; this is an 18% YoY increase. In the Q1 earnings call, management indicated its plan to ramp up hiring during Q2 to meet clients' strong demand.
TELUS International - Stock Analysis - Financials
Q2 and YTD Financial Results
TIXT's Q2 and YTD results are accessible here.
In Q2, TIXT's Tech & Games vertical represented the highest YoY percentage growth among the company's targeted industries. It grew 59% YoY, with ~70% of this growth attributed to the Lionbridge AI acquisition (now rebranded TELUS International AI Data Solutions). The balance of the growth in Tech & Games was organic.
TIXT also saw 49% YoY revenue growth from clients in its eCommerce & Fintech vertical.
The Communications & Media vertical grew 11% YoY while all other industry verticals grew 23% YoY.
On the expense front, salaries and benefits expense of $0.299B was up 28% YoY as a result of the growth and expansion of TIXT's business and related growth in team member counts.
Goods and services purchased were $0.103B in Q2. This 39% YoY increase is largely due to acquisitions and, in particular, TIXT's AI data solutions and crowdsourced contractors for which the contracted labour costs are recognized in goods and services.
Share-based compensation in Q2 was $19 million, an increase of $9 million YoY. The increase was primarily driven by mark-to-market adjustments on historical cash-settled awards due to the increase in TIXT's share price. New awards granted under the company's 2021 long-term incentive plan are now equity-settled and generally vest annually over a 4 year period.
TIXT delivered Q2 adjusted EBITDA of $0.131B (56% YoY growth) and Q2 adjusted EBITDA margin of 24.6% versus a 21.5% margin in Q2 2020. Q2 Adjusted net income was $63 million, up 142% YoY and Q2 adjusted diluted EPS was $0.24, up 100% YoY.
Cash and cash equivalents were $0.119B as of June 30, 2021. Total available liquidity grew to ~$0.815B at the end of Q2 compared to ~$0.285B at FYE2020. This includes available borrowings under the $0.696B revolving credit facility.
TIXT continues to lower its debt levels with the repayment of $55 million from cash generated from operations in Q2.
This lowered the net debt to adjusted EBITDA leverage ratio, as defined in the credit agreement, to 2.3x as of June 30, 2021. This represents a 40 bps point improvement from 2.7x at the end of March 2021. This falls within the 2x to 3x range management views as a good amount of leverage.
Free cash flow was $71 million, up 109% from Q2 2020. Strong earnings growth and the company's relatively modest capital expenditure profile resulted in cash generated by operations increasing 92%.
FY2021 Guidance
The cost base is expected to increase in Q3 due to planned annual merit increases. These increases started in June and the majority are to have been completed in July. These increases are already factored into the revised guidance.
Based on YTD results and the robust new business pipeline, management has raised FY2021 guidance as follows:
Management now expects FY2021 revenue of $2.17B - $2.21B versus the prior $2.15B - $2.19B.
Adjusted EBITDA of $0.53B - $0.54B versus the prior $0.523B - $0.533B.
 Adjusted diluted EPS guidance of $0.92 - $0.97 versus the prior $0.90 - $0.95 range.
TELUS International - Stock Analysis - Credit Ratings
Although Moody's, S&P Global and Fitch do not currently rate TIXT, I take comfort in knowing that TELUS Corporation, one of TIXT's largest clients and its controlling shareholder, is rated Baa1 by Moody's (stable outlook), BBB+ by S&P Global (negative outlook), and BBB+ by Fitch (stable outlook).

TIXT and TELUS Corporation also have a master services agreement in place in which TELUS Corporation for a 10-year timeframe beginning in January 2021 and in which there will be a minimum annual spend of $0.2B, subject to adjustment in accordance with its terms.
All 3 ratings are the top tier of the lower medium grade investment-grade category. These ratings define TELUS as having an ADEQUATE capacity to meet its financial commitments. Adverse economic conditions or changing circumstances, however, are more likely to lead to a weakened capacity for TELUS to meet its financial commitments.
Furthermore, page 9 of 22 in the Q2 Management's discussion and analysis of financial condition and results of operations reflects the following:
'Our largest client, a leading social media company, generated 16.9% and 16.3% of our revenue, respectively (2020 - 16.4% and 14.6%, respectively); TELUS Corporation, our second-largest client and controlling shareholder, generated 16.2% and 16.2% of our revenue, respectively (2020 - 19.2% and 20.7%, respectively); Google, our third largest client, generated 11.0% and 11.4% of our revenue, respectively (2020 - 8.0% and 8.8%, respectively).'
While the largest client is not disclosed, I have no reason to think the credit quality of that client is suspect.
TIXT disclosed in its Prospectus that the current intent is to retain all available funds and any future earnings to support operations and to finance the growth and development of the business. Investors should not expect TIXT to declare or pay cash dividends on its subordinate voting shares in the foreseeable future. In addition, TIXT is in growth mode so I do not anticipate any significant share repurchases.
TELUS International - Stock Analysis - Valuation
Using the $0.945 midpoint of the new FY2021 adjusted diluted EPS guidance and the current ~$39 CDN share price, we get a forward adjusted diluted PE of ~41.3.
Adjusted diluted EPS guidance from the brokers which cover TIXT is currently:
FY2021 - 6 brokers - $0.94 mean and low/high range of $0.93 - $0.95. The forward adjusted diluted PE is ~41.5 using the mean.
FY2022 - 6 brokers - $1.20 mean and low/high range of $1.15 - $1.26. The forward adjusted diluted PE is ~32.5 using the mean.
FY2022 - 3 brokers - $1.46 mean and low/high range of $1.40 - $1.50. The forward adjusted diluted PE is ~26.7 using the mean.
TIXT is a rapidly growing new publicly traded company. As such, investors should not expect its valuation on the basis of forward-adjusted diluted earnings to be similar to that of a larger well-established company.
TELUS International - Stock Analysis - Final Thoughts
I have invested in TIXT through one of the 'Core' accounts within the FFJ Portfolio based on its rapid growth potential and expect capital gains will be my sole form of investment return.
Anybody interested in investing in TIXT should be aware of the 'locked-up party' and the 'restricted period' which ends 180 days after the February 2, 2021 date of the Prospectus (refer to page 268 of 499 in the Prospectus).
It is estimated 80% of the total number of shares outstanding will become unlocked and available to sell on August 1, 2021. This could result in insider selling. TELUS, however, holds ~55% of total shares outstanding and I do not envision it will reduce its stake in TIXT.
I acquired shares in TIXT view the intent of being a long-term shareholder and view the end of the 'restricted period' as a non-issue. If, however, TIXT's share price does drop significantly upon the termination of the 'restricted period' I may acquire additional shares. Failing this, I am comfortable with my current exposure.
Stay safe. Stay focused.
I wish you much success on your journey to financial freedom!
Note: Please send any feedback, corrections, or questions to [email protected].
Disclosure: I am long TIXT.

Disclaimer: I do not know your individual circumstances and do not provide individualized advice or recommendations. I encourage you to make investment decisions by conducting your own research and due diligence. Consult your financial advisor about your specific situation.
I wrote this article myself and it expresses my own opinions. I do not receive compensation for it and have no business relationship with any company mentioned in this article.