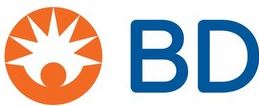 Events Subsequent to January 10, 2018 Post
The following is an update to my January 10, 2018 Becton Dickinson (NYSE: BDX) article.
On January 23, 2018, BDX held its Annual Meeting of Shareholders and reaffirmed its guidance. Details are as follows: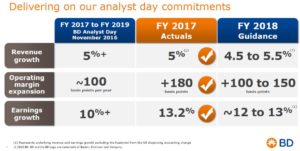 Source: BDX 2017 Annual Meeting of Shareholders
Adjusted earnings per share for FY2018 are expected to be ~$10.87. BDX's stock price closed at $246.28 on January 26, 2018. This gives us a forward PE of ~22.67 which is elevated relative to the sector median of ~11.6.
In my January 10, 2018 article I indicated that based on the January 10, 2018 ~$223.7 closing stock price, the adjusted PE ratio was ~20.6. At the time I thought BDX was overvalued. The subsequent run up in BDX's stock price now makes it, in my opinion, even more overvalued.
The Board of Directors declared a quarterly dividend of $0.75/share/quarter ($3.00/share/year) payable on March 30, 2018 to holders of record on March 9, 2018. This results in a 1.22% dividend yield based on the January 26, 2018 closing stock price. This dividend yield is well below 2008 – 2017 levels of 1.73%, 1.72%, 1.80%, 2.25%, 2.36%, 1.84%, 1.61%, 1.6%, 1.64%, and 1.34%.
Final Thoughts
I do not deny that BDX is a great company. If it were not, I would have sold my shares by now. My concern at this stage, however, is that BDX is overpriced as a result of many investors experiencing the 'fear of missing out' phenomenon.
As noted in my previous post, I would be receptive to acquiring additional shares despite BDX's long-term debt credit ratings having been downgraded to non-investment grade-speculative and lower medium grade. My reasoning is that I strongly suspect BDX will generate strong positive cashflow which will enable management to achieve its plan of restoring BDX's credit rating to investment grade (BBB (S&P) BBB-(Fitch) Ba1 (Moody's)) over the next 3 years.
I wish you much success on your journey to financial freedom.
Thanks for reading!
Note: Thanks for reading this article. Please send any feedback, corrections, or questions to [email protected].
Disclaimer: I have no knowledge of your individual circumstances and am not providing individualized advice or recommendations. I encourage you not to make any investment decision without conducting your own research and due diligence. You should also consult your financial advisor about your specific situation.
Disclosure: I am long BDX.
I wrote this article myself and it expresses my own opinions. I am not receiving compensation for it and have no business relationship with any company whose stock is mentioned in this article.