This is an introduction to my Brookfield Asset Management (BAM) stock analysis which is based on Q1 2018 results. My exposure to BAM allows me to benefit from its expertise and success with alternative asset investments.
Summary
BAM reported strong Q1 2018 results on May 10, 2018.
At the end of Q1 2018 (March 31st), BAM maintained core liquidity and uncalled private fund commitments of $32B. It also generated over $2.5B of annual free cash flow from its asset management business and distributions from invested capital.
I wish to have exposure to alternative assets but lack the expertise and resources to properly analyze same. My exposure to BAM allows me to benefit from its expertise and success with such investments.
Introduction
Brookfield Asset Management (NYSE: BAM TSX: BAM-A) is a leading global alternative asset manager, focused on investing in long-life, high-quality assets across real estate, renewable power, infrastructure and private equity. It provides a wide variety of investment products to its investors including private funds, listed issuers, and public securities.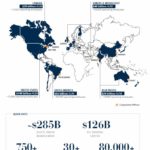 Source: BAM 2017 Annual Report page 8 of 196
BAM's interests are aligned with its investors because it invests large amounts of its own balance sheet capital in its funds; BAM is typically the largest investor in its private funds and the largest investor in each of its four flagship publicly listed partnerships:
BAM's financial returns are represented primarily by the combination of fees earned as an asset manager as well as capital appreciation and distributions from its invested capital.
Please refer to the 'Differentiation' section of my February 18, 2018 article wherein I touch upon why BAM appeals to me as a long-term investment. That article also addresses BAM's historical returns and credit ratings. I also share links to BAM's September 27, 2017 Investor Day presentation and the transcript associated with the presentation; I share these links again in this article so you can get a comprehensive overview of the company.
Additional details can also be found in my September 25, 2017, May 20, 2017, and February 10, 2017 articles and in my Low or No Dividend Yield Companies Belong in Your Portfolio.
In addition to the above, I encourage you to listen to this May 1, 2018 Bloomberg interview in which Bruce Flatt (BAM's CEO) explains the opportunities BAM sees in real estate.
For the sake of full disclosure, I hold the TSX listed BAM shares in the FFJ Portfolio and also in accounts I do not publicly disclose. Shares are held in Tax Free Savings Accounts, Registered Accounts, and in Non-Registered accounts. I also acquired additional BAM shares in February 2018.
Please click here to read my BAM stock analysis.
Members of the FFJ community can access reports I generate on high quality companies which add long-term shareholder value. In an effort to help you determine whether my offering is of any value to you I am pleased to offer 30 days' free access to all sections of my site. No commitments. No obligations. That's 30 days from the time you register at absolutely no cost to you!