We are currently witnessing an environment in which the valuation of many companies has become detached from the underlying fundamentals. Even if you invest in a high quality company it is important to remember that if you grossly overpay you are most likely to experience substandard investment returns.
Although I have indicated in recent articles that I am looking to add to existing positions as opposed to initiating new positions, my analysis of Merck & Co., Inc. (MRK) has prompted me to initiate a position while I wait for existing holdings to become more attractively valued.
Summary
Merck & Co., Inc. is one of the world's largest major drug manufacturers.
Strong Free Cash Flow is consistently generated.
MRK is expected to spin-off  in Q2 2021 its Women's Health, Legacy Brands and Biosimilars into Organon, a newly created entity, for which it shall receive $8.5B - $9B. Proceeds will be deployed to enhance MRK shareholder value.
Risk averse investors will take comfort that all 3 major ratings agencies rate MRK's unsecured long-term debt as investment grade.
Introduction
In recent articles I have indicated that my priority is to increase my position in high quality companies I understand and in which my family has an existing position. I was looking at the 'medical' space since I think I am underrepresentedn. Johnson & Johnson (JNJ) is one such company in which I hold shares in 'Core' and 'Side' Accounts within the FFJ Portfolio and also in retirement accounts for which I do not disclose details. My challenge with JNJ, however, is that I view shares as richly overvalued.
I also looked at Stryker Corporation (SYK) in the Medical Devices space since I have a couple of small positions I wish to grow. SYK and its largest competitors are also richly valued.
Just recently I wrote an article on Becton, Dickinson and Company (BDX) which competes in the Medical Instruments & Supplies sector. This is one of my largest holdings and I am receptive to increasing my exposure but I do not have available cash at the moment in the 2 accounts in which I hold BDX shares.
While analyzing the 'medical' space I noticed various metrics for Merck & Co., Inc. (MRK) looked appealing. Upon closer review I really liked what I saw, and therefore, decided to initiate a 300 share position at $75.08/share within one of the 'Core' accounts within the FFJ Portfolio.
Business Overview
I always highly recommend that, at the very least, investors look at the most recent 10-K to get a basic understand of the business. MRK's 2020 10-K has yet to be uploaded to its website and to EDGAR at the time I compose this article so I encourage you to review Item 1 - Business in MRK's 2019 10-K starting on page 3 of 184.
On page 3 of 184 in the 2019 10-K we see that in February 2020 MRK disclosed its plan to spin-off its Women's Health, Legacy Brands and Biosimilars into a new company for which details can be accessed here; the new entity will be called Organon & Co.. An investor FAQ is also available here. NOTE: In the Q4 2020 Earnings Call management indicated Organon will pay MRK a $8.5B - $9B special dividend prior to the spinoff as opposed to $8B - $9B that was originally communicated. These proceeeds will be used for value-creating business development and/or share repurchases.
The rationale for the spin-off is to create two companies with enhanced strategic and operational focus, improved agility, simplified operating models, optimized capital structures and improved financial profiles. In 2020, the products that will comprise Organon achieved revenues of $6.5B. In 2021, assuming it the spun off entity operated as an independent company for the full year, Organon would have been expected to generate $6.0B - $6.5B in revenue. As it nears the end of loss of exclusivity exposure to key brands, Organon will be well positioned for growth led by its Women's Health and Biosimilars portfolios, with expected low to mid-single digit annual revenue growth off of a 2021 base year.
From MRK's perspective, the Organon spin-off will:
'allow it to increase focus on key growth pillars, result in higher revenue and EPS growth rates and enable incremental operating efficiencies of approximately $1.5B which are expected to be achieved ratably over 3 years, with ~0.5B reflected in MRK's 2021 financial outlook.
MRK will continue to incur overhead costs previously allocated to the Organon products, which are estimated to be approximately $0.4B on a full-year basis. These costs are expected to be reduced over time and are netted into the overall efficiency target. In addition, the special tax-free dividend from Organon will be allocated to business development or share repurchase.'
I also highly encourage you to review MRK's 2019 Investor Day presentation and to to look at MRK's extensive pipeline of late-stage clinical development programs that is updated quarterly.
Q4 and FY2020 Results and FY2021 Guidance

MRK's Q4 and FY2020 results can be found here and here and the Earnings Presentation can be accessed here. FY2021 guidance (page 14 of 21 in Q4 Earnings Presentation) is on the basis of Women's Health, Legacy Brands and Biosimilars not having been spun off to Organon. Guidance will be updated if the transaction closes as expected within the next 2 -3 months.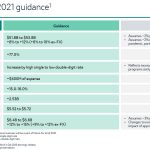 Source: MRK - Merck Q4 2020 Earnings Presentation
Free Cash Flow (FCF)

In FY2011 - 2019 MRK generated $11, $8, $10, $6, $11, $9, $5, $8, and $10 (billion). As I write this article, MRK's 10-K had yet to be released for me to calculate FY2020's FCF. As at the end of Q3, however, MRK had generated ~$3.1B in FCF calculated as $6.3B in 'Net Cash Provided by Operating Activities' minus $3.2B in 'CAPEX'.
MRK also issued $4.5B of new debt and repaid $2B of debt. In June 2020 (Q3), MRK issued $4.5B principal amount of senior unsecured notes consisting of $1.0B of 0.75% notes due 2026, $1.25B of 1.45% notes due 2030, $1.0B of 2.35% notes due 2040 and $1.25B of 2.45% notes due 2050. It used the net proceeds from the offering for general corporate purposes including the repayment of outstanding commercial paper borrowings and other indebtedness with upcoming maturities.
The FY2020 10-K has not yet been released but looking at the schedule of long-term debt in the 2019 10-K (page 100 of 138) there is only $2.264B of long-term debt due in 2021. It will be interesting to see what the Board decides to do with the sizable influx of cash expected within the next 2 -3 months from the Organon spin-off.
Credit Ratings
If you are an investor who requires an acceptable level of risk with your investments (based on some of the recent events of late it appears many investors are paying little/no heed to the risk aspect of their investment(s)) then MRK should meet your requirements. All 3 major ratings agencies rate MRK's unsecured long-term debt as investment grade.
A1 (Moody's) which is the top tier within the upper medium grade category;
AA- (S&P) which is the lowest tier within the high grade category;
A+ (Fitch) which is the top tier within the upper medium grade category.
Dividends and Dividend Yield

MRK's dividend history can be found here.
Looking at MRK's February 4th Q4 and FY2020 Earnings presentation we see that MRK's Board and senior management remain committed to increasing the dividend and repurchasing shares following the impending upcoming spin-off of Organon.
Source: MRK - Merck Q4 2020 Earnings Presentation
MRK currently distributes a $0.65/share/quarter dividend. This dividend could increase after the Organon divestiture but for now my analysis is based on the April, July, and October dividend remaining at this level and the January 2022 dividend being increased to $0.69/share. This would give us dividend income of $2.64 over the next 4 quarterly dividend payments. Using my $75.08 purchase price, the estimated forward dividend yield is ~3.5%. I hold shares in a taxable account so I need to account for the 15% withholding tax meaning I would receive ~$2.24 for a ~2.96% estimated forward dividend yield.
Valuation
MRK's guidance is based on the assumption that the Organon business will be part of MRK for all of 2021 yet it is expected that the Organon spinoff will occur late Q2 2021. Should this spinoff occur as planned, MRK will update its financial estimates.
Beginning in 2021, MRK will be changing the treatment of certain items for the purposes of its adjusted reporting. Historically, MRK's adjusted results excluded the amortization of intangible assets recognized in connection with business acquisitions but did not exclude the amortization of intangibles originating from collaborations, asset acquisitions or licensing arrangements. Beginning in 2021, MRK's adjusted results will no longer differentiate between the nature of the intangible assets being amortized and will exclude all amortization of intangible assets.
Beginning in 2021, MRK's adjusted results will exclude gains and losses on investments in equity securities. On this new basis, MRK expects FY2021 adjusted EPS to be $6.48 - $6.68, including a ~3% positive impact from foreign exchange. The adjusted range also excludes acquisition- and divestiture-related costs and costs related to restructuring programs. The changes to adjusted reporting resulted in a positive impact to projected 2021 adjusted EPS of approximately $0.08. For comparative purposes, MRK's adjusted EPS in 2020 would have been $5.79 if reported under the new basis; MRK reported $5.94 adjusted EPS prior to accounting for these reporting changes.
I also see from one of my sources that 19 brokers have estimated FY2021's mean adjusted diluted EPS will be $6.44 and the low/high range will be $5.86 - $6.88. I do not know whether these estimates factor in the changes noted above.
MRK has generated diluted EPS in 2011 - 2020 of $2.02, $2.00, $1.47, $4.07, $1.56, $1.41, $0.87, $2.32, and $3.81; GAAP earnings have been impacted by acquisition and divestiture-related costs as well as restructuring costs and certain other items. This swing in annual EPS has contributed to MRK's PE having been all over the map (27.52, 18.95, 33.59, 30.86, 14.20, 30.04, 54.11, 61.13, 25.41, and 27.26). For now, using my $75.08 purchase price and FY2021 $5.52 - $5.72 GAAP EPS guidance we get a PE range of ~13.13 - ~13.6.
MRK's adjusted diluted EPS for 2011 - 2020 prior to the proposed reporting changes amounted to $3.77, $3.82, $3.49, $3.49, $3.59, $3.78, $3.98, $4.34, $5.19, and $5.94. Using these results I calculated the adjusted PE levels and arrived at 9.16, 10.83, 13.33, 16.53, 15.7, 15.1, 15.52, 15.01, 16.04, and 13.50. If I use my $75.08 purchase price and projected FY2021 adjusted EPS of $6.48 - $6.68 I arrive at an adjusted forward PE range of 11.24 - 11.59 which is favorable relative to levels in recent years.
We need to bear in mind that a significant influx of cash from the Organon divestiture is likely to occur within the next 2 - 3 months which will have an impact on FY2021 guidance. I fully expect the Board and senior management, will deploy these proceeds in the most efficient manner possible to enhance shareholder value and we might see an improvement in FY2021's projected valuation.
Final Thoughts
MRK's shares are currently reasonably valued and I am optimistic the Organon spin-off will lead to higher revenue and EPS growth rates. On this basis I have initiated a 300 share position even though in recent articles I indicated my intent was to focus on increasing my exposure to existing holdings.
I wish you much success on your journey to financial freedom.
Thanks for reading!
Note: I sincerely appreciate the time you took to read this article. Please send any feedback, corrections, or questions to [email protected].
Disclaimer: I have no knowledge of your individual circumstances and am not providing individualized advice or recommendations. I encourage you not to make any investment decision without conducting your own research and due diligence. You should also consult your financial advisor about your specific situation.
Disclosure: I am long MRK.
I wrote this article myself and it expresses my own opinions. I am not receiving compensation for it and have no business relationship with any company whose stock is mentioned in this article.