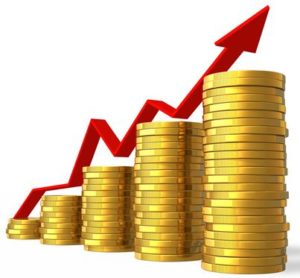 Due to my extreme reluctance to publicly disclose all our holdings it has dawned on me that it is quite possible readers will look at the FFJ Portfolio and will think 'Ho Hum!'. Fair enough.
In an effort to address the perception some readers may have, I have put together the following snapshot of screen scrapes from investment accounts held at two different financial institutions. While I only reflect one line item for a particular holding, many of the companies reflected in this snapshot are held in various accounts.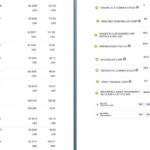 You will note the letter 'D' next to each entity with the exception of Becton Dickinson (NYSE: BDX), Diageo (NYSE: DEO), and Brookfield Asset Management (TSX: BAM.a). The absence of the letter 'D' means that the dividends are not being automatically reinvested. In the case of BDX and BAM.a, I have elected to receive the cash as we will need the dividends to help cover living expenses. In the case of DEO, this is an American Deposit Receipt and the automatic reinvestment of dividends is not offered by the discount broker.
The column of dollar values closest to the stock symbol reflects the 'Book Value' while the column furthest from the stock symbol reflects the market value as at the market close on February 23, 2018.
The last two entries (Chevron (NYSE: CVX) and 3M (NYSE: MMM)) are held at another financial institution. That discount broker reflects the market value in the column of dollar values closest to the stock symbol while the column furthest from the stock symbol reflects the 'Book Value'. Dividends from the shares reflected in the last 2 line items are being automatically reinvested.
This snapshot does not reflect all our holdings but at least you can get a sense that when I write a post and indicate I am 'long' a company…I truly mean that I am 'long' a company.
I will not disclose the number of shares held in each entity. I can assure you, however, that we don't just own a couple hundred shares in each company. Our holdings in a company will typically be 300 to 5000 shares. For the most, we will hold 1200+ shares in a company.
In a recent podcast I disclosed my top holdings and I reflect them below for your reference; this list was compiled February 2, 2018 and will, naturally, change over the course of time.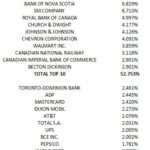 During the recent market dip, for example, I purchased additional shares in Canadian National Railway (TSX: CNR), Church & Dwight (NYSE: CHD), and Walmart (NYSE: WMT). The list compiled as at February 2nd, therefore, is not entirely up to date.
If you compare the list of top holdings reflected above with the holdings within the FFJ Portfolio located in the members portal area of this site you will see that several top holdings are not held in the FFJ Portfolio.
In addition to the above, there are several companies in which I hold shares across a few accounts. As a result, the holdings disclosed in the FFJ Portfolio do not reflect our consolidated holdings for several companies.
Shares in The Bank of Nova Scotia (TSX: BNS), for example, are held across 6 accounts. Shares in BAM.a are held across 4 accounts. Shares in The Royal Bank of Canada (TSX: RY) are held across 3 accounts. There are several other companies in which shares are held in 3 or more accounts.
Since I will not disclose all our investments, I provide the following so you can get a sense of how the portfolio has grown in recent years. In 2007, our portfolio generated $9,267 in dividend income. By 2012 the portfolio generated $31,852 in dividend income. In 2017, our investments generated a low 6 figures ($100,000 - $110,000) in annual dividend income.
Holding shares in several companies spread over 12 accounts (each account has a specific purpose and we will be opening another account shortly) makes it extremely difficult for me to determine how our overall portfolio has performed over the years. While I recently received Performance and Fee Statements for our investment accounts from one of our online brokers, these statements only reflect the performance of some accounts over the past 1, 3, and 5 years. Unfortunately, after having been employed by my last employer for a number of years, I was informed that all our investment accounts held with my previous employer had to be transferred so all my trades could be pre-approved/monitored as it was deemed that I might be privy to non-public information.
As a result of the transfer of accounts, the statements from the online broker in which the vast majority of our holdings are held only reflect the returns on our accounts starting January 1, 2013; the 5 year rates of return according to these statements are in the 15.38% - 21.44% per year range. Had I been able to retain our accounts with my previous employer I strongly suspect the range of 10 year rates of return would be 18% - 23% per year. I have no way of confirming this but hopefully the images provided at the beginning of this post will give you some sense of how various investments have performed.
On a final note, I anticipate I will be in a position within the next few months to share with you new purchases of significance (6 - 7 figures). Naturally, this will depend on being able to identify undervalued/fairly valued companies as I am not prepared to acquire additional shares just for the sake of acquiring additional shares. I have not yet decided whether these new investments will be included in the FFJ Portfolio but I will certainly keep you apprised of any new investments I make.
I hope you enjoyed this post and I wish you much success on your journey to financial freedom.
Thanks for reading!
Note: I sincerely appreciate the time you took to read this article. Please send any feedback, corrections, or questions to [email protected]
Disclaimer: I have no knowledge of your individual circumstances and am not providing individualized advice or recommendations. I encourage you not to make any investment decision without conducting your own research and due diligence. You should also consult your financial advisor about your specific situation.
Disclosure: I am long all the companies reflected in this post.
I wrote this article myself and it expresses my own opinions. I am not receiving compensation for it and have no business relationship with any company whose stock is mentioned in this article.