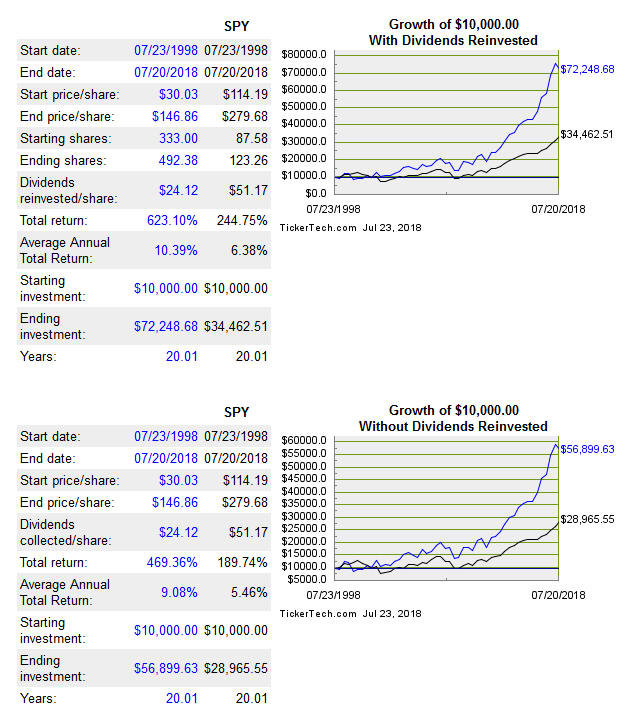 While FY2018 EPS has been revised downward ever so slightly, this company continues to generate strong Free Cash Flow on an annual basis. It has repurchased $1B of its shares in the first half of the current fiscal year and has indicated it intends to repurchase another $0.5B in the 2nd half of the year. A double digit percentage increase in its dividend is also expected to be announced within the first couple of weeks in August (this is subject to Board approval).
Summary
This fairly recently acquired member of the FFJ Portfolio just reported Q2 2018 results  wherein Total Revenue increased 7% of which 4% was organic growth.
All 7 of the company's business segments delivered positive YoY organic revenue growth but 5 of the business segments missed quarterly revenue expectations and only 2 units beat expectations.
First half of FY2018 Free Cash Flow of $0.977B just about services the entire amount spent on YTD $1B in share repurchases. Management expects to repurchase another $0.5B of outstanding shares in the 2nd half of the current fiscal year.
Projected FY2018 EPS range revised downward by $0.10/share to $7.50 - $7.70.
Company faces currency headwinds and in the2nd half of the current fiscal year higher costs are expected to be a headwind. This has led to management lowering its full-year operating margin to 24% - 25%, down from 25% - 25.5% range.
Despite downward revision in projected EPS, FCF is expected to be strong which management has indicated will, subject to Board approval in August, lead to a significant dividend increase.
Introduction
The nice thing about having invested in North American equities for a few decades is that I have able to learn from the teachings of several highly successful investors who are willing to share their knowledge. When I talk about successful investors I mean the likes of Buffett, Munger, Greenblatt, Lynch, Pabrai, Templeton, Fisher, and Bogle.
Every once a while I am bound to invest in a wonderful company only to see the stock get the stuffing knocked out of it even though the company has just reported strong results. It certainly gives me some comfort knowing every investor listed above has had a similar experience.
In the case of the company being analyzed in this article, I see a company which reported organic growth acceleration, strength/resilience of its business model, and excellent operational execution. In fact, this company just reported its most profitable first half of any fiscal year in its 100+ year history!
This is when I take a step back and remind myself of Warren Buffett's pearl of wisdom:
"In the short term, the market is a popularity contest. In the long term, the market is a weighing machine."
When I initiated a position in this company in late April 2018 I also had in mind a couple of his other famous quotes:
"If you aren't willing to own a stock for ten years, don't even think about owning it for ten minutes. Put together a portfolio of companies whose aggregate earnings march upward over the years, and so also will the portfolio's market value."
"Successful Investing takes time, discipline and patience. No matter how great the talent or effort, some things just take time: You can't produce a baby in one month by getting nine women pregnant."
"It's far better to buy a wonderful company at a fair price than a fair company at a wonderful price."
This is why I have absolutely no concern how the market has reacted to this company's recent Q2 earnings release. In fact, if investors would approach the acquisition of shares in wonderful companies much the same way as they approach the purchase of large tickets items (eg. house, vehicle), price pullbacks should be looked upon favorably. Now, if an investor is employing the use of margin to invest in equities….that's a whole different story and I wish them luck.
Please click here to read the complete version of this article.
Members of the FFJ community can access reports I generate on high quality companies which add long-term shareholder value. In an effort to help you determine whether my offering is of any value to you I am pleased to offer 30 days' free access to all sections of my site. No commitments. No obligations. That's 30 days from the time you register at absolutely no cost to you!