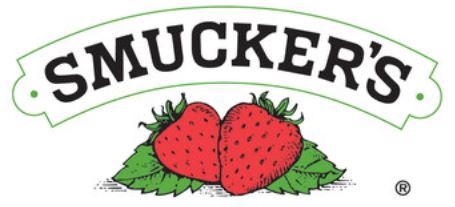 The J.M. Smucker Company  is facing headwinds. Revenue growth and profit margins are expected to remain under pressure amid a competitive environment and challenging retailer dynamics. The stock price has dropped ~18.5% from recent highs and in this article I look at whether SJM currently presents an attractive buying opportunity.
Summary
SJM is facing headwinds and revenue growth and profit margins are expected to remain under pressure amid a competitive environment and challenging retailer dynamics.
SJM is currently exploring the divestiture of its US baking business and a sale of this business will likely impact FY2019 projections.
Shareholders have been aptly rewarded over the long-term but returns over a 10 year or shorter timeframe have been inferior to returns generated by the S&P500.
The stock is trading at an attractive valuation which should bode well for investors with a long-term investment time horizon.
There are far more attractive companies in which to invest but they are overvalued. Investors anticipating a market correction in the not too distant future might be wise to pass on SJM and to wait for more attractive valuations from superior companies.
Introduction
On May 30, 2017, just prior to me initiating a position in The J.M. Smucker Company (NYSE: SJM)  in early June 2017, SJM announced the signing of a definitive agreement to acquire the Wesson® oil brand from Conagra Brands, Inc.. In my June 10, 2017 article I outlined my rationale for initiating a 200 shares position in the company; my analysis was based on the following guidance from the company.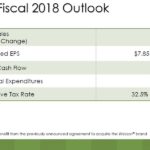 Source: SJM – Q4 and FY2017 Earnings Presentation - June 8 2017
SJM's stock price dropped subsequent to my purchase but I still felt comfortable with my decision to invest in the company and viewed the price drop as an opportunity to acquire another 200 shares in July 2017.
On August 24, 2017, SJM released its Q1 2018 results and revised its adjusted EPS forecast for FY2018 downward.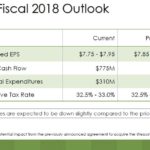 Source: SJM – Q1 2018 Earnings Presentation – August 24 2017
Despite the downward revision in projections I viewed a 10,000 share purchase by Richard K Smucker (Chairman) as a vote of confidence in the company; this purchase increased the total holdings in his name to more than 652,000 shares.
Based on my review of the Q1 2018 results and projections I continued to be satisfied that SJM warranted a place in the FFJ Portfolio.
SJM's stock price rebounded in November 2017 but had still not retraced to the level of my average cost. Based on further analysis, I decided that I would write 4 July 2018 out-of-the-money covered call contracts with a 125 strike price when SJM was trading at ~$111,; 4 option contracts represents 400 shares.
By the second last week of January 2018, SJM had risen to ~$131 meaning that the buyer(s) of the option contracts could have exercised their option to acquire my SJM shares for $125. Same was not done.
The stock pulled back below $125 in late January but subsequently rose to the ~$130 level around the beginning of March.
In early March, the US Federal Trade Commission filed an administrative complaint challenging SJM's proposed acquisition. While SJM and Conagra objected to the complaint, on March 6, 2018 they mutually agreed to terminate the definitive agreement.
Subsequent to the mutually agreeable announcement to terminate the Wesson® oil brand acquisition, SJM's tock price retraced to just below $100; it has recently risen to ~$106.
Since SJM has just released its FY2018 results and has provided its FY2019 forecast I am now taking this opportunity to reanalyze SJM.
Please click here to read my SJM stock analysis.
Members of the FFJ community can access reports I generate on high quality companies which add long-term shareholder value. In an effort to help you determine whether my offering is of any value to you I am pleased to offer 30 days' free access to all sections of my site. No commitments. No obligations. That's 30 days from the time you register at absolutely no cost to you!