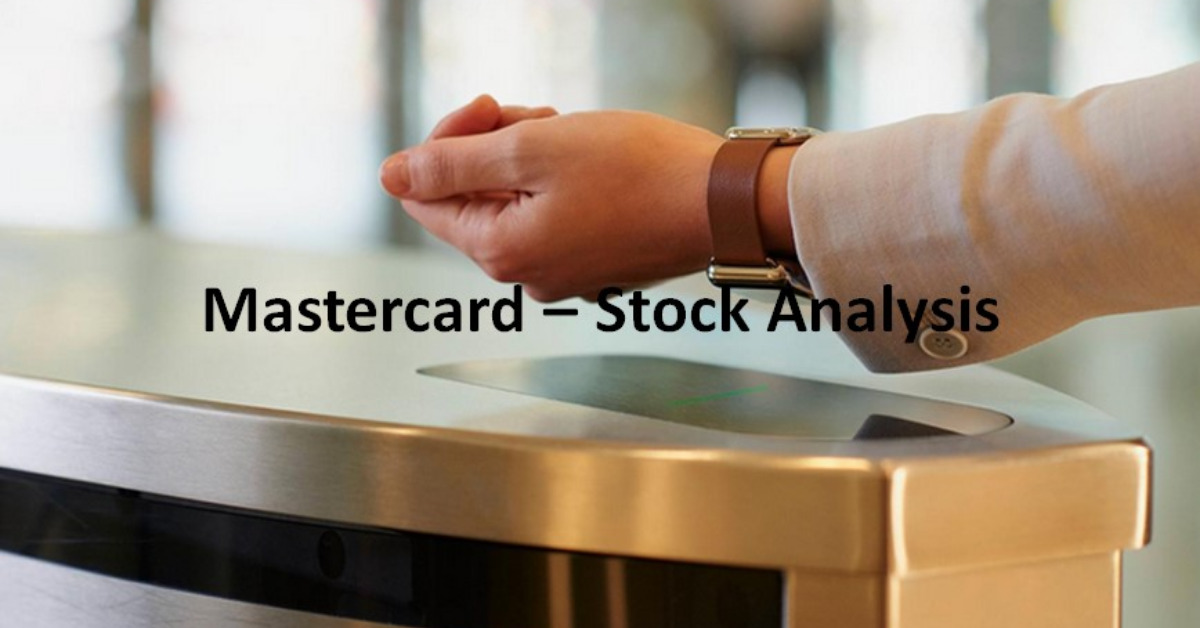 In this Mastercard stock analysis I:
MA is our second-largest holding (FFJ Portfolio Holdings Review: April 2021) and our daughter also holds MA shares which I acquired for her retirement account; I disclosed this purchase here.
Mastercard - Stock Analysis - Financials

Q1 2021 Results
There is little point in reviewing Q1 results since MA is releasing Q2 2021 results in late July. If interested, however, the Q1 Earnings Release and accompanying Investor Presentation are accessible here and the Q1 10-Q is accessible here.
Mastercard - Options - July 16, 2021 Expiry
On May 22, 2021, I wrote 5 MA option contracts and received $2.88/share or $1440 in total before the nominal option trade commission.
I expect MA's results to show a marked improvement from the 2nd half of FY2020 and YTD 2021 results as the global economy slowly reopens and business conditions in various hard-hit business sectors gradually return to normal.
MA's share price may be bid up as we approach the Q2 earnings release. Hopefully, the share price will remain below $405 between now and July 16th so the option contracts expire and I can retain 100% of the option premium and the underlying shares.
Mastercard - Stock Analysis - Credit Ratings
Many investors appear to give little consideration to risk. I often see investors in various Facebook groups or on YouTube, discussing investments where the company's domestic senior unsecured credit ratings are 'non-investment grade speculative' or 'highly speculative'. These are DEBT ratings. Holding common shares carries far greater risk!
Moody's currently rates MA's domestic senior unsecured long-term debt A1 and S&P Global rates it A+. Both ratings are the top tier of the 'upper-medium grade' investment-grade category and are 1 notch lower than Visa's ratings.
Investors can take comfort that MA has a STRONG capacity to meet its financial commitments. It is, however, somewhat more susceptible to the adverse effects of changes in circumstances and economic conditions than obligors in higher-rated categories (eg. Visa).
Dividend and Dividend Yield
Many investors focus on generating dividend income and overlook MA as a potential investment because of its sub 1% dividend yield. The dividend yield is not my focus. I look at an investment's potential overall return.
Looking at MA's total return since going public in May 2006 we see that long-term shareholders have been richly rewarded. Past performance has little bearing on future performance but I am confident MA will continue to perform admirably going forward.
MA will be distributing its 3rd consecutive $0.44 quarterly dividend on August 9th; the dividend yield is ~0.47% based on the current ~$373 share price.
In mid-November, I expect another ~$0.44 quarterly dividend and also think MA will increase its quarterly dividend to $0.50 commencing with the February 2022 dividend; MA should have no difficulty in servicing this higher dividend since it generates ample operating cash flow and free cash flow.
The weighted average number of outstanding shares in FY2011 - 2020 (in millions) is: 1,284, 1,258, 1,215, 1,169, 1,137, 1,101, 1,072, 1,047, 1,022, and 1,006 with 998 for the quarter ending March 31, 2021.
Mastercard - Stock Analysis - Valuation
The current FY2021 mean adjusted diluted EPS and low/high range from 37 brokers are $7.86 and $7.36 - $8.47. When I wrote the $405 July 16 2021 option contracts, the mean adjusted diluted EPS and low/high range from 35 brokers were $7.86 and $7.36 - $8.47. With shares trading at ~$373, the forward adjusted diluted PE was ~47.5 using the mean estimate and ~44 using $8.47.
The current FY2022 mean adjusted diluted EPS and low/high range from 40 brokers are $10.43 and $9.33 - $11.20. Using the current ~$373 share price, the forward adjusted diluted PE based on the FY2022 mean estimate is ~35.76.
As the global economy reopens, I think MA's FY2022 adjusted diluted EPS will approach the top end of estimates. If MA were to generate $11, for example, the adjusted diluted PE could end up in the ~33 - ~35 range. This valuation is a bit rich but in MA we have:
a company that has been outperforming its larger peer (Visa) in terms of growth;
plenty of growth opportunities; and
a scalable business with strong

long-term growth opportunities and

impressive margins (Operating Margin in the low/mid-50s).
Mastercard - Stock Analysis - Final Thoughts
MA is my 2nd largest holding and I have no qualms about increasing my exposure. I plan to build our MA position within taxable accounts as part of our intergenerational transfer of wealth strategy.
Despite MA's current valuation being somewhat higher than I prefer, I have acquired an additional 137 shares on July 12th. I also intend to acquire additional shares if we get a long-overdue broad market correction and MA's share price is caught in the downdraft.
Stay safe. Stay focused.
I wish you much success on your journey to financial freedom!
Note: Please send any feedback, corrections, or questions to [email protected].
Disclosure: I am long MA.
Disclaimer: I do not know your individual circumstances and do not provide individualized advice or recommendations. I encourage you to make investment decisions by conducting your own research and due diligence. Consult your financial advisor about your specific situation.