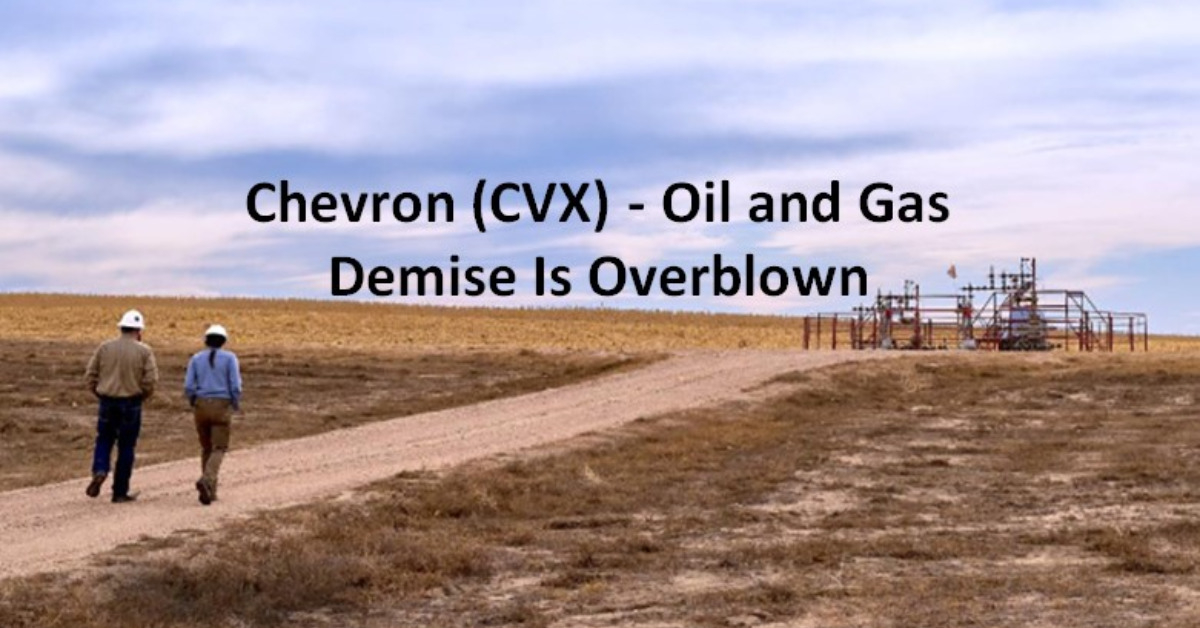 In my Chevron Corporation (CVX) guest post at Dividend Power, I touch upon why I think expectations of the demise of the oil and gas industry are overblown.
This post is the 3rd in a series of guest posts on integrated oil and gas producers. In my July 7 Imperial Oil (IMO) Is Gushing Free Cash Flow guest post, I explain why I am not initiating a position in the company. I follow up that post with my July 14 Exxon Mobil (XOM) Shareholders Are Finally Being Rewarded guest post; XOM owns 69.6% of IMO.
In these 2 prior posts, I share my 'big picture' thoughts that include a look at:
the law of supply and demand and why oil and gas prices are likely to be higher in the future;
the advent of electric vehicles may impact the demand for oil and gas but the mining industry is in no position to supply the quantities of minerals required to produce all the batteries that will be required for electric vehicles;
why third-world countries are not on the same wavelength as advanced economies when it comes to the environment; and
how the major integrated oil and gas producers are diversifying into more environmentally friendly sources of energy.
Oil and gas prices can be volatile. In recent months we have witnessed a pullback in the share price of high-quality oil and gas companies such as CVX.
There has been considerable debate on the extent to which high oil and gas prices might lead to demand destruction. While demand destruction could occur thus depressing oil and gas prices in the short term, longer-term supply issues remain. Global demand outstripping supply in the long term is a very real possibility.
This potential long-term imbalance stems from a host of factors which include:
Investors wanting a reduction in CAPEX from historical levels with a greater return of free cash flow in the form of dividend increases and share buybacks;
The reluctance on the part of oil and gas producers to invest in very costly projects over several years before any revenue is generated;
Russia's invasion of Ukraine has upended global energy markets;
R

efining capacity in the US that is about a million barrels a day below what it was before the pandemic. US refineries have no spare capacity; and

Chinese demand will eventually ramp up once lockdowns ease.

We may continue to witness short-term weakness in the share price of integrated oil and gas producers. However, the long-term prognosis is clear. CVX is likely to generate significant profits and free cash flow over the next few years.
In CVX, we also have a company with very low net debt to capital ratios. This gives it the flexibility to raise debt to enhance shareholder returns through share repurchases and/or dividend increases.
Final Thoughts
The average annual total return from a CVX investment over the past decade is well below that of the S&P500. Looking in the rearview mirror, however, is not the way to invest. Investors need to step back and look at the big picture.
The world can likely expect higher oil and gas prices going forward with wild swings in the short term. The recent pullback in CVX's share price presents an opportunity for investors to invest in CVX if they missed the window of opportunity in 2020 and the first half of 2021. While CVX's share price is much higher now than during that timeframe, investors need to look at valuation and not just stock price.
We also need to recognize that CVX is diversifying to other forms of energy. This means that the CVX a decade from now will be very different from a decade ago.
I expect CVX to continue to gush free cash flow over the foreseeable future. This should enable it to reward investors with further share buybacks. Investors seeking dividend income are also likely to be rewarded with sizable dividend increases. I expect the announcement of a sizable dividend increase in the coming months.
CVX was my 3rd largest holding when I completed my Mid-2022 Investment Holdings Review although the ranking may have changed over the past month and a half.
Its current valuation based on future earnings is attractive. I, therefore, have been adding to my exposure on share price weakness.
Additional posts regarding CVX and XOM are accessible in the FFJ Archives.
I wish you much success on your journey to financial freedom!
Note: Please send any feedback, corrections, or questions to [email protected].
Disclosure: I am long CVX and XOM.
Disclaimer: I do not know your circumstances and do not provide individualized advice or recommendations. I encourage you to make investment decisions by conducting your research and due diligence. Consult your financial advisor about your specific situation.
I wrote this article myself and it expresses my own opinions. I do not receive compensation for it and have no business relationship with any company mentioned in this article.