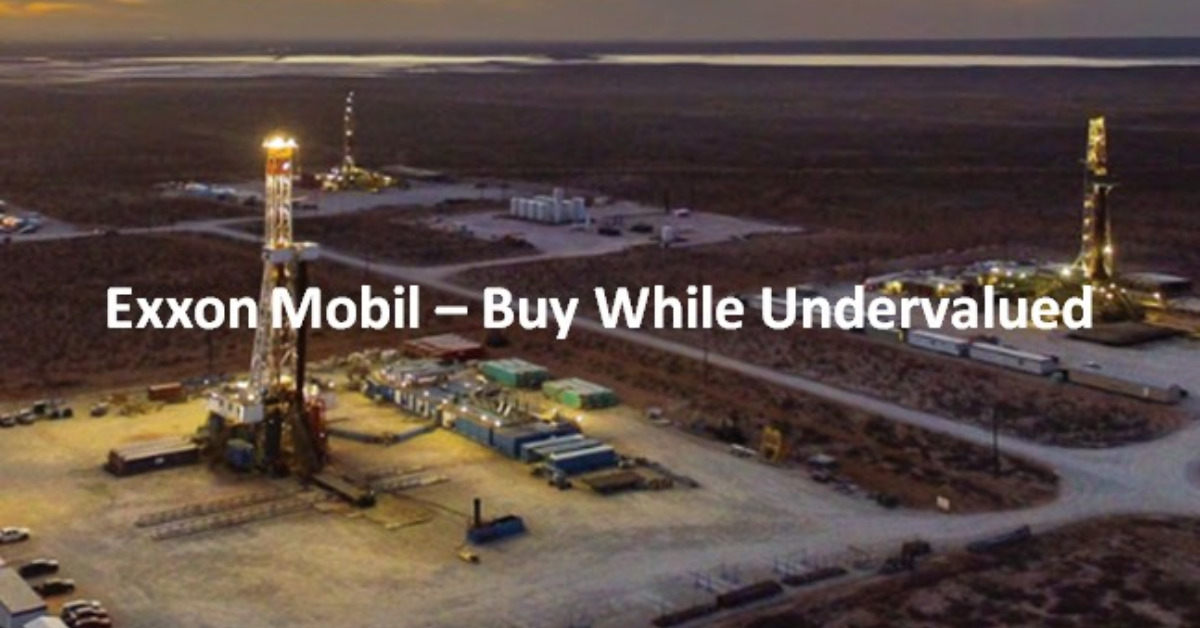 I encourage you to read my July 22, 2021 Chevron Corporation – Buy While Undervalued post. In that post, I touch upon my outlook for oil and gas and why I acquired an additional 100 CVX shares on July 22 within a 'Core' account in the FFJ Portfolio. On July 22, I also acquired another 200 Exxon Mobil (XOM) shares in the same 'Core' account in the FFJ Portfolio.

XOM is scheduled to release Q2 and YTD results on July 30 so there is little point in reviewing Q1 results. I, however, provide links to the Q1:
to aid you in your review of the company.
Exxon Mobil - Buy While Undervalued - Credit Ratings
In multiple posts, I indicate my unwillingness to assume unnecessary investment risk. As an equity investor, I assume a greater level of risk than debt holders. I, therefore, shy away from companies where the unsecured debt is non-investment grade.
XOM's senior unsecured domestic currency debt ratings are:
Moody's: Aa2 (this is the middle tier of the high-grade investment-grade category). This class of debt was rated Aaa as recently as early 2020. In early April 2020, the rating was reduced to Aa1. It was further reduced in March 2021 to the current Aa2 level.
S&P Global: AA- with a negative outlook (this is the bottom tier of the high-grade investment-grade category). This class of debt was downgraded from AA+ to AA in March 2020 and again in February 2021 to AA-.
The rating assigned by S&P Global is one notch lower than that assigned by Moody's. Both ratings, however, define XOM as having a VERY STRONG capacity to meet its financial commitments. It differs from the highest-rated obligors only to a small degree.
Despite these downgrades, I envision XOM's performance going forward will be materially superior to recent historical results. In fact, I think there is a strong probability XOM's senior unsecured domestic currency debt ratings could be upgraded over the next couple of years.
Dividend and Dividend Yield
Looking at XOM's dividend history, we see XOM was forced to freeze its quarterly dividend at $0.87. In addition, business conditions were so dire in FY2020 that XOM had to resort to incurring substantial additional debt to service its obligations and to maintain its dividend (refer to page 70 of 135 in the FY2020 10-K).
XOM's cashflow in Q1 2021, however, improved dramatically (refer to page 6 of 50 in the Q1 2021 10-Q) and I expect it will generate strong cashflow going forward.
I expect the current quarterly dividend to remain unchanged until Q1 2022 by which time XOM should have been able to reduce its debt and management should have a better indication as to the sustainability of a higher dividend.
I look at an investment's potential overall return and do not invest based on a company's dividend and dividend yield. In the case of XOM, I think there is potential for attractive capital gains over the coming years. While we patiently wait for these gains to materialize, XOM rewards us with a ~6.1% dividend yield based on the current $3.48 annual dividend and the current ~$57 share price.
Even if you are a Canadian resident who holds XOM shares in a taxable account where you incur a 15% dividend withholding tax, the dividend yield is still an attractive ~5.2%.
XOM's diluted weighted average shares outstanding in FY2011 - FY2020 (in millions) is 4,876, 4,628, 4,419, 4,282, 4,196, 4,177, 4,256, 4,270, 4,270, and 4,271. This share count increased in Q1 2021 to 4,272 but I expect a resumption in the reduction of XOM's share count over the remainder of FY2021.
XOM repurchased no shares in Q1 as per page 25 of 50 in the Q1 10-Q.
Exxon Mobil - Buy While Undervalued - Valuation
Following the release of Q2 results on July 30, I expect the 26 brokers who have provided adjusted diluted EPS guidance for FY2021 and FY2022 will revise their figures upwards. However, based on a ~$57 share price and current estimates which vary significantly, I come up with the following adjusted diluted PE levels.
FY2021: mean of $3.95 and a low/high range of $3.09 - $5.12. The forward adjusted diluted PE using the mean estimate is ~14.43 and ~12.67 if I use $4.50.
FY2022: mean of $4.73 and a low/high range of $3.75 - $6.03. The forward adjusted diluted PE using the mean estimate is ~12.05 and ~10.36 if I use $5.50.
I view these levels as attractive.
Exxon Mobil - Buy While Undervalued - Final Thoughts
As mentioned in my recent CVX post, I think the demise of the oil and gas industry is greatly exaggerated. In fact, I believe we are at the beginning of a multi-year oil bull market.
The world no longer possesses short-cycle supply and it has become increasingly reliant on long-cycle supply from:
the supermajors

who are no longer willing to sufficiently invest;

state-owned oil companies facing financing constraints due to

other sovereign spending priorities.
Global oil inventories have already nearly healed from the COVID-19 demand shock. Secondly, challenges with future production growth rates suggest to me that we are on the verge of a supply crisis. This will very likely lead to much higher oil prices in the coming years.

Given XOM's current depressed valuation and what I expect will be a coming boon in its cashflow, I think investors can expect a strong probability of shareholder returns that exceed those of recent years. On this basis, I acquired another 200 shares at ~$57/share on July 22.
Stay safe. Stay focused.
I wish you much success on your journey to financial freedom!
Note: Please send any feedback, corrections, or questions to [email protected].
Disclosure: I am long XOM and CVX.

Disclaimer: I do not know your individual circumstances and do not provide individualized advice or recommendations. I encourage you to make investment decisions by conducting your own research and due diligence. Consult your financial advisor about your specific situation.
I wrote this article myself and it expresses my own opinions. I do not receive compensation for it and have no business relationship with any company mentioned in this article.