Summary
This Church & Dwight analysis is based on Q3 results released Nov 2nd and its September 7th Barclays Back to School Conference presentation.
CHD's ability to be a serial acquirer is the result of its strong free cash flow. It has tripled its free cash flow to ~$0.6B in a span of 10 years.
In FY2016, 82% of CHD's sales were in the US. CHD is now making a concerted effort to expand its international sales from the $0.525B reported in FY2016.
CHD was richly valued a few months ago. The stock price has pulled back ~20% from its high set in July 2017.
CHD is now attractively valued and I would acquire additional CHD shares at current levels but we already have a full position.
Introduction
On February 8, 2017 I wrote a Church & Dwight (NYSE: CHD) post following the release of the Q4 and FY2016 results. Results were well received and the stock price jumped almost 3.5% to just over $47. At the time, CHD projected FY2017 EPS of $1.72 - $1.74 and FY2017 adjusted EPS of $1.89.
CHD's stock price trended up to a high of ~$54 in late July. In my opinion, CHD's stock price was experiencing a period of irrational exuberance. The stock price has subsequently caught a downdraft and is now trading at more a more palatable level of ~$43.3.
Given that CHD released its Q3 results on Nov 2nd and presented September 7th at Barclays Back to School Conference I thought I re-analyze CHD.
Q3 2017 Results
Q3 and YTD results can be found here. At the beginning of the current fiscal year, CHD forecast FY2017 EPS of $1.72 - $1.74 and Adjusted EPS growth of 7% or $1.89/share. The full year outlook now calls for FY2017 EPS of $1.82 and Adjusted EPS of $1.92.
As in the past, innovation continues to drive revenue and earnings growth. I continue to be amazed at the multitude of kitty litter varieties CHD offers. I never noticed any change in our cat's behavior when we altered the kitty litter but somehow CHD is experiencing considerable success by continually introducing new types of kitty litter.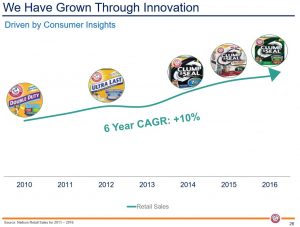 (Source: CHD's Barclays Back to School Conference Presentation September 7, 2017)
An area of CHD's business which has experienced disappointing results of late is the condom business. This is a result of a disturbing trend in the reduction in the number of high school seniors who never go out on dates and in the decline in sexual activity.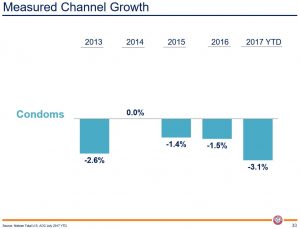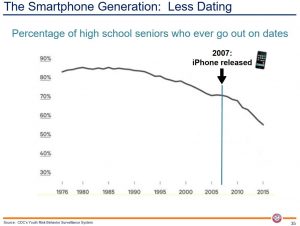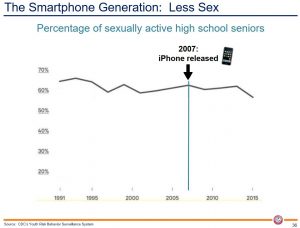 (Source: CHD's Barclays Back to School Conference Presentation September 7, 2017)
While the results are as at 2015, I strongly suspect the trend evidenced in the presentation has continued. In an effort to improve CHD's condom sales, readers of this post with high school seniors are strongly encouraged to take away their teenagers' cell phone. In addition, only 1 in 3 condom purchases are made by women. Women, for the most part, are far more responsible than men when it comes to birth control.  Parents with daughters, therefore, are encouraged to impress upon their daughters to increase their condom purchases.
International Expansion
CHD has historically been predominantly a US company with 82% of its business coming from the US; household, personal care, and specialty products have made up 47%, 45%, and 8% of sales respectively. Full year sales in 2016 amounted to ~$3.5B but International sales only amounted to $0.525B.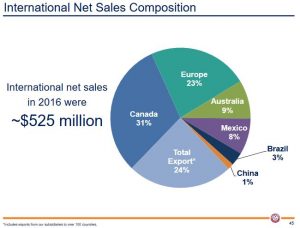 (Source: CHD's Barclays Back to School Conference Presentation September 7, 2017)
CHD indicated on its November 2, 2017 analyst conference call, that its International Consumer business continues to exceed expectations having pulled in 6.2% organic growth.
CHD's international growth is coming from various regions. In 2016, CHD opened new offices in Singapore and Panama to support its export business. In August 2017, it established a new subsidiary in Germany to expand its European business and the best approach for expansion in Asia is currently under review.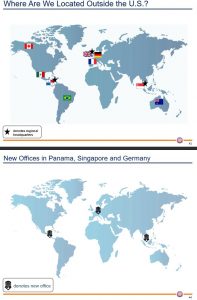 (Source: CHD's Barclays Back to School Conference Presentation September 7, 2017)
Growth Through "Bolt On" Acquisitions
CHD has a lengthy history of growth through the successful integration of "bolt on" acquisitions.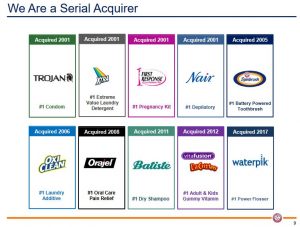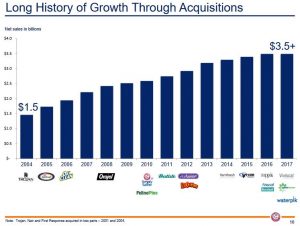 (Source: CHD's Barclays Back to School Conference Presentation September 7, 2017)
This trend has continued in 2017 with various acquisitions including the Q3 Waterpik acquisition; 70% of Waterpik's net sales are from its oral health line while the remaining 30% are from its showerhead product line.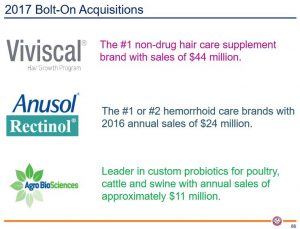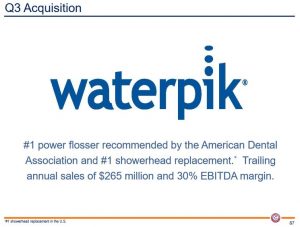 (Source: CHD's Barclays Back to School Conference Presentation September 7, 2017)
Free Cash Flow Conversion
While there are a number of metrics by which to evaluate a company's performance, the Free Cash Flow conversion metric resonates strongly with me. The reason I like this metric is because it represents the cash a company is able to generate after spending money required to maintain or expand its asset base. It is also extremely important because it allows a company to pursue opportunities that enhance shareholder value. This is critical for a company such as CHD which has a history of growing through acquisition.
As evidenced from the following data, CHD has tripled its free cash flow in 10 years (FY2007 – FY2016).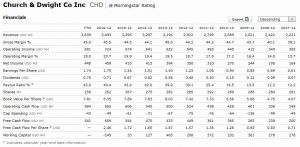 (Source: Morningstar)
Dividend, Dividend Yield, and Dividend Payout Ratio
CHD's dividend history can be found here. Please note that CHD has erred in that it is not paying 5 dividends in FY2017. The annual dividend is $0.76 as opposed to $0.95.
CHD's dividend yield is typically below 1.60% but the recent pullback in the stock price presents investors with a ~1.75% dividend yield. This may be unappealing to dividend yield hungry investors but the current CHD dividend yield is the most attractive it has been in several years.

(Source: Morningstar)
CHD's target dividend payout ratio is a very conservative 40%.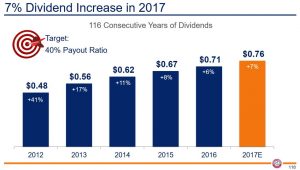 (Source: CHD's Barclays Back to School Conference Presentation September 7, 2017)
On November 1, CHD's Board authorized a new stock repurchase program under which up to $0.5B of outstanding common stock may be repurchased to reduce the number of outstanding shares. There is also a separate repurchase program intended to neutralize the dilution associated with the exercise of stock options issued.
Valuation
Using the 2017 and 2018 EPS Consensus Expectations of $1.92 and $2.10 and the November 6, 2017 closing stock price of $43.32 we arrive at a PE and projected PE of 22.56 and 20.63.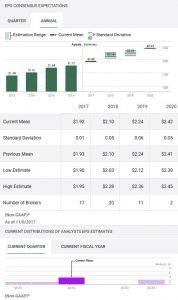 (Source: TD WebBroker)
The recent pullback in CHD's stock price is now resulting in a reasonably attractive valuation level for a company with CHD's long-term growth potential.
Church & Dwight Stock Analysis - Final Thoughts
We currently own a few thousand CHD shares in one of our retirement accounts at an average cost that is sub $9.70. If we were not overweight CHD, I would be acquiring additional shares.
I hope you enjoyed this post and I wish you much success on your journey to financial freedom.
Thanks for reading!
Note: I sincerely appreciate the time you took to read this post. As always, please leave any feedback and questions you may have in the "Contact Me Here" section to the right.
Disclaimer: I have no knowledge of your individual circumstances and am not providing individualized advice or recommendations. I encourage you not to make any investment decision without conducting your own research and due diligence. You should also consult your financial advisor about your specific situation.
Disclosure: I and long CHD.
I wrote this article myself and it expresses my own opinions. I am not receiving compensation for it and have no business relationship with any company whose stock is mentioned in this article.