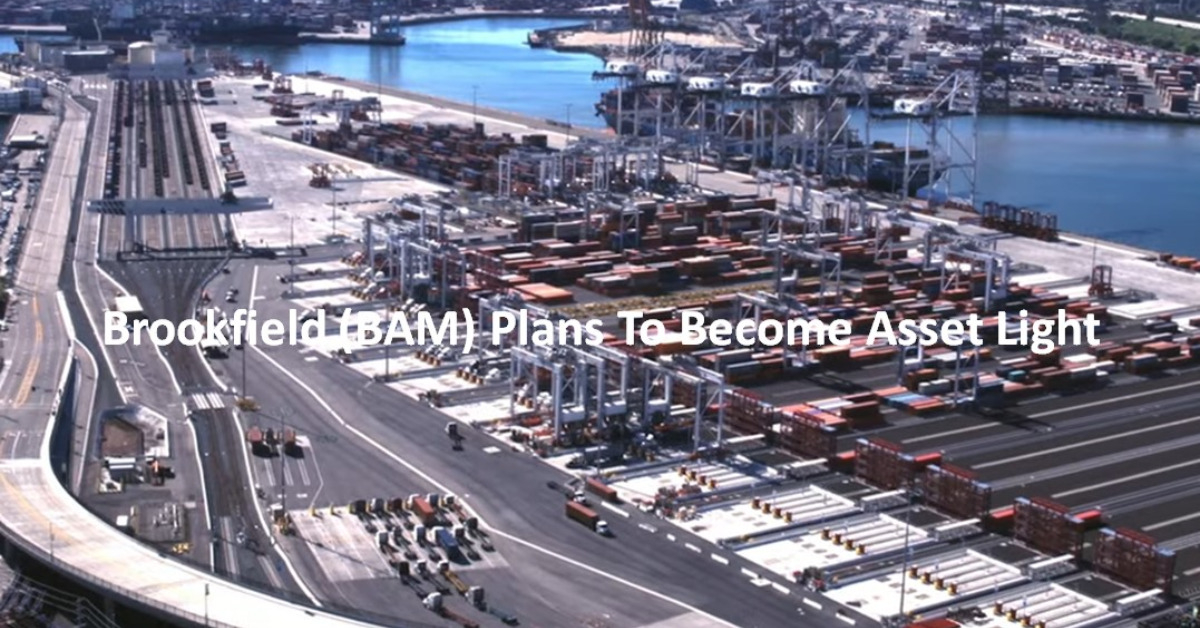 In my April 29, 2022, Consider Blackstone For Alternative Asset Exposure guest post at Dividend Power, I explain my rationale for investing in the world's largest asset manager based on market capitalization. As a follow-up, my Brookfield (BAM) Plans To Become Asset Light guest post at Dividend Power explains why I also invest in this high-quality asset manager.
Spin-Off Plan
Both companies are leaders in their own right. There is, however, one significant difference between the two firms: Blackstone (BX) is asset light while BAM is asset heavy.
An 'asset-light' business model strategy has (relatively) little ownership of assets, i.e. only a small amount of fixed assets on the balance sheet. An 'asset-heavy' business model strategy is the opposite.
The difference between the two companies is readily apparent when you look at their respective Q1 2022 Balance Sheet.
BAX's Total Assets at the end of Q1 2022 are ~$2.25B. BAM's Total Assets, on the other hand, are ~$402B.
However, BAM's 'asset light' model is about to change. After much speculation, Brookfield plans to become asset light.
The plan is to publicly list 25% of its asset-management business in a transaction that would value the new entity at US$80B. It expects to publicly distribute this 25% to shareholders before the end of 2022. This special distribution of shares will be around US$20B, or US$12/share.
HomeServe plc Acquisition
Although my guest post was posted on May 20, I composed it on May 13. As of May 13, Brookfield Infrastructure had only announced the potential acquisition of HomeServe plc.
On May 19, BAM announced its agreement to buy emergency household repairs provider HomeServe Plc in a deal valuing the company at £4.1B (US$5B); this is one of the UK's largest take-private transactions this year.
This opportunity likely arose because BAM recognizes the potential benefits of owning the company outright given its sizable real estate portfolio which could benefit from HomeServe's services. In essence, BAM's scale is such that the entities in which it has a controlling interest can cross-sell to each other (keep the profits within the 'family').
Final Thoughts
When I completed a January 2022 Investment Holdings Review, The Brookfield Group of companies was my 10th largest holding. The ranking may have changed since then but unless I conduct another review I can not confirm its ranking. It is time-consuming to complete such a review because I have holdings spread over 19 investment accounts at two financial institutions; I hold shares in "Core' and 'Side' accounts within the FFJ Portfolio and retirement accounts for which I do not disclose details.
Regardless of whether BAM is still a Top 10 holding or not, I think it will be far more valuable in the future. I, therefore, view the recent weakness in its share price as an opportunity to increase my exposure. On May 11, 2022, I acquired 200 additional shares @ $60.96 in one of the 'Core' accounts.
I wish you much success on your journey to financial freedom!
Note: Please send any feedback, corrections, or questions to [email protected].
Disclosure: I am long BAM-a.TO and BX.

Disclaimer: I do not know your circumstances and do not provide individualized advice or recommendations. I encourage you to make investment decisions by conducting your research and due diligence. Consult your financial advisor about your specific situation.
I wrote this article myself and it expresses my own opinions. I do not receive compensation for it and have no business relationship with any company mentioned in this article.