Stanley Black & Decker's (SWK) share price has appreciated over 30% since I recommended acquiring shares in my January 22nd article.
With the release of Q2 results and FY2019 guidance I provide my opinion on SWK's current valuation.
Summary
On July 23rd SWK reported Q2 2019 results in which $2.66 in Non-GAAP EPS beat estimates by $0.11 and GAAP EPS of $2.37 missed by $0.03. Revenue of $3.76B (+3.3% Y/Y) missed by $50M.
Adjusted EPS results achieved through extreme focus on cost control and price execution which offset ~$110 million of pre-tax currency commodity and tariff headwinds.
SWK expects that in FY2019 it will absorb ~$0.39B in combined tariff currency cost inflation.
Despite recent quarterly dividend increase, dividend yield is now ~1.78% versus ~2.32% when I acquired additional shares for the FFJ Portfolio in January 2019.
Introduction
I am always interested in acquiring shares in great companies…especially when a company is a Dividend King; this is a very small subset of companies which has increased its dividend for at least 50 consecutive years.
When I published my previous Stanley Black & Decker's (SWK) article I viewed shares as being attractively valued and disclosed that I had just acquired another 150 shares for the 'Side Accounts' within the FFJ Portfolio at $116.99/share.
Market conditions have certainly changed since January 2019. Back in December/January it looked like investors were throwing the 'baby out with the bathwater'. Now….investors seem to be tripping over themselves to snap up shares in companies even when valuations appear to be somewhat stretched. This gives me cause for concern and as a result I have not been deploying much money in recent months.
My concern becomes greater when I read that investors appear to have reacted to the U.S. stock market's strong rebound in June by employing a greater use of leverage (borrowing money to invest).
I fully appreciate not every investor shares my outlook on elevated (in general) equity valuations. I, however, prefer to err on the side of caution and think a broad market pullback of 10%+ is not out of the realm of possibility; I notice an increasing number of companies are reporting results wherein commodity inflation, foreign exchange and tariffs are greater than increases in volume, productivity and price.
In fact, on SWK's July 23rd Q2 earnings call, the very first comment SWK's President/CEO made was:
'We continued to generate above market organic growth, achieved operating margin rate expansion and delivered adjusted EPS growth overcoming a $110 million of pre-tax currency commodity and tariff headwinds.'
Despite these headwinds I see that SWK's share price jumped ~$10 jump to $151.66 following the release of Q2 and YTD results on July 23rd.
With Mr. Market reacting so positively to SWK's results I have decided to look at management's guidance to determine whether SWK shares are reasonably valued.
Q2 2019 and YTD Results
SWK's most recent quarterly and semi-annual results can be accessed here.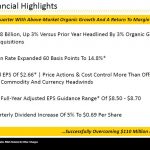 Source: SWK – Q2 2019 Earnings Presentation – July 23 2019
On the Q2 earnings call, SWK's EVP/CFO reiterated the company's commitment to deliver a Free Cash Flow (FCF) conversion rate of approximately 85% - 90% despite YTD FCF being ($0.117B).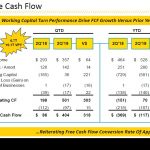 Source: SWK – Q2 2019 Earnings Presentation – July 23 2019
Although SWK increased its operating margin by ~60 bps and increased its adjusted EPS growth by ~4% from Q2 2018, management indicated this was 'achieved with a laser focus on cost control and price execution with our business teams overcoming ~$110 million of pre-tax currency commodity and tariff headwinds in Q2.'
SWK also indicated it expects it will absorb ~$0.39B in combined tariff currency cost inflation in FY2019.
At SWK's May Investor Day, management discussed the launch of its margin resiliency program. The effort is centered on creating benefits across the entire value chain by applying the latest digital technologies and techniques such as artificial intelligence and advanced analytics to optimize performance to create incremental margin. Management expects this program will deliver $0.3B - $0.5B of annualized operating margin benefit over a multi-year period.
2019 Guidance
SWK has reiterated its 2019 adjusted EPS guidance, which calls for ~4% organic growth and adjusted EPS of $8.50 - $8.70. On a GAAP basis, the EPS range remains unchanged at $7.50 - $7.70.
Management estimates an incremental $50 million in external headwinds primarily related to List 3 China tariffs; List 3 products with a total import value of $200B were subject to an additional 10% tariff as of September 24, 2018. Following a breakdown in trade talks in May 2019, the tariff was increased to 25%.
Please click here to read the complete version of this article.
Members of the FFJ community can access reports I generate on high quality companies which add long-term shareholder value. In an effort to help you determine whether my offering is of any value to you I am pleased to offer 30 days' free access to all sections of my site. No commitments. No obligations. That's 30 days from the time you register at absolutely no cost to you!
I wish you much success on your journey to financial freedom.
Thanks for reading!
Note: I sincerely appreciate the time you took to read this article. Please send any feedback, corrections, or questions to [email protected].
Disclaimer: I have no knowledge of your individual circumstances and am not providing individualized advice or recommendations. I encourage you not to make any investment decision without conducting your own research and due diligence. You should also consult your financial advisor about your specific situation.
Disclosure: I am long SWK.
I wrote this article myself and it expresses my own opinions. I am not receiving compensation for it and have no business relationship with any company whose stock is mentioned in this article.