This is the second of two articles in which I look at companies within the coatings industry which have retraced from their respective 52 week highs. The first article covered PPG and this article covers Sherwin-Williams.
Summary
Following the 2017 Valspar acquisition, SHW is the leader in the highly fragmented coatings industry with the top 10 suppliers holding a ~55% market share.
Goodwill and Intangible Assets now comprises over 64% of SHW's Total Assets.
SHW's Long-Term Debt to EBITDA ratio upon completion of the Valspar acquisition rose to 4.5Xs. At its current ~4.1Xs, it is still elevated but management is diligently working toward deleveraging.
I view SHW as a superior long-term investment than PPG.
Despite a ~15% retracement from its 52 week high I still view SHW as being slightly overvalued and am of the opinion we will encounter further market turbulence which may reduce SHW's share price further.
Introduction
This article regarding The Sherwin-Williams Company (NYSE: SHW) is a follow up to my recent Embrace Market Pullbacks and PPG Industries, Inc. (NYSE: PPG) articles.
In the Embrace Market Pullbacks article I suggested investors avoid panicking when markets encounter 'speed bumps' and to view pullbacks as opportunities to either add to existing positions or to initiate positions at more favorable valuations.
In my PPG article I indicated that I had given PPG and SHW a cursory review a few months ago and found both to be somewhat expensive for my liking. I didn't bother writing about either company and simply moved on although I did diarize to analyze PPG and SHW subsequent to the release of their Q3 results (October 18th and October 25th respectively).
My reasoning for moving up my PPG and SHW reviews, however, was prompted by last week's market pullback. What I noticed was that PPG's share price ($95.02) is ~22% below its 52 week high and that for SHW ($406.97) is ~15% below its 52 week high and neither stock price experienced at least a bit of a 'snap back' following the 2 day pullback.
I have already indicated that I will PASS on investing in PPG. In this article I look at whether SHW is now attractively valued.
Overview
SHW, founded in 1866 and incorporated in Ohio in 1884, is engaged in the development, manufacture, distribution and sale of paint, coatings and related products to professional, industrial, commercial and retail customers primarily in North and South America with additional operations in the Caribbean region, Europe, Asia and Australia.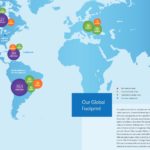 Source: SHW – 2017 Annual Report page 3 of 85
On June 1, 2017, SHW completed the acquisition of The Valspar Corporation in an all cash transaction for a total purchase price of $8.9B net of divestiture proceeds of $0.431B from the sale of Valspar's North American industrial wood coatings business to Axalta Coating Systems Ltd..
Following this acquisition, SHW reorganized into 3 reportable operating segments: The Americas Group, Consumer Brands Group and Performance Coatings Group. The following images provide an overview of how the segments have been realigned together with Sales and Profit results for Q2 2018.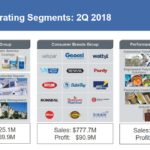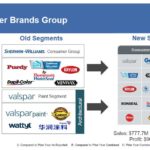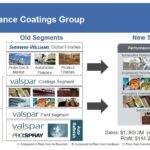 Source: SHW – Operating Segment Reconciliation Q2 2018
SHW has the leading market share among professional painters, who value brand, quality, and store proximity far more than their do-it-yourself counterparts.
SHW charges a premium for its paints but since paint typically only accounts for ~10 – 20% of painting contractor costs, painting contractors are generally not especially price-sensitive about paint costs. SHW's paint might cost a bit more than that of competitors but paint contractors save on overall costs by purchasing high-quality paint that reduces preparation and application time (ie. lower labor costs); SHW's paint is well known in the industry for having desirable characteristics, including the need to apply fewer coats, longer lasting, ease of application, and less cure time.
In SHW's May 22, 2018 Financial Community Presentation, SHW presenters discussed at length the following 5 reasons for solid growth prospects.
New construction;
Repaint and remodeling;
Protective and marine;
Global Manufacturing;
Auto Refinish.
The following images show the extent to which the industry participants have changed in the last few years. This images reflect the industry in 2015.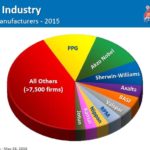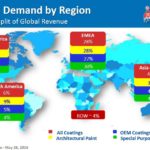 Source: Financial Community Presentation - May 26, 2016
This image reflects the industry participants in 2017 following SHW's acquisition of Valspar.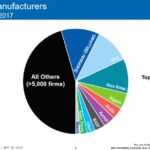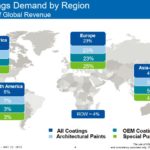 Source: SHW - May 22, 2018 Financial Community Presentation
Please click here to read the complete version of this article.
Members of the FFJ community can access reports I generate on high quality companies which add long-term shareholder value. In an effort to help you determine whether my offering is of any value to you I am pleased to offer 30 days' free access to all sections of my site. No commitments. No obligations. That's 30 days from the time you register at absolutely no cost to you!