Illinois Tool Works (ITW) released Q4 and FY2018 results and provided FY2019 guidance on February 1, 2019.
ITW has reiterated its $7.90 - $8.20 full year EPS guidance provided at its December 7, 2018 Investor Day. Organic growth, however, is now expected to be 1 – 3% versus the previous 2 – 4% outlook. This lower guidance is entirely related to taking a more conservative, risk-adjusted view with regards to auto builds and semiconductor-related demand in 2019.
ITW if off ~23% from its 52 week high and this article analyses ITW's outlook to determine whether additional shares should be acquired for 'side accounts' with the FFJ Portfolio.
Summary
ITW released Q4 and FY2018 results and FY2019 guidance on February 1, 2019 and held its Investor Day on December 7, 2018.
Excluding a one-time $0.658B charge associated with the passage of the 'Tax Cuts and Jobs Act' in FY2017, ITW grew EPS by 15%, expanded operating margin by 60 bps to a record 24.3%, grew Free Cash Flow 10%, and returned $3B cash to shareholders in the form of dividends and share repurchases despite significant raw material cost headwinds and a decline in auto builds in North America, Europe and China.
Organic growth has been lowered to 1 – 3% versus the 2 – 4% outlook provided at ITW's December 7, 2018 Investor Day. Lower guidance is entirely related to taking a more conservative, risk-adjusted view with regards to auto builds and semiconductor-related demand in 2019.
ITW shares were acquired April 30, 2018 and are held in one of the FFJ Portfolio's 'side accounts'.
Introduction
Illinois Tool Works Inc. (ITW), founded in 1912 and incorporated in 1915, is a global manufacturer of a diversified range of industrial products and equipment. It has 87 divisions and operates in 56 countries.
Operations are organized and managed based on similar product offerings and end markets, and are reported to senior management in the following 7 reporting segments:
Automotive OEM;
Food Equipment;
Test & Measurement and Electronics;
Welding;
Polymers & Fluids;
Construction
Products;
Specialty Products.
ITW is a diversified industrial company and is exposed to a macroeconomic downturn, potential operating deleverage, and slowing organic growth as it grows. Tariffs also present a risk but management has indicated this risk is manageable since the company is predominantly an 'a produce-what-we-sell company' and only ~2% of spend is sourced from China.
Prior to reading this article I encourage you to read my April 28th ITW article in which I provide a very high level Business Overview and touch upon its Business Model.
In my July 23rd follow-up article I suggested investors look upon price pullbacks in high quality companies from a positive perspective. At the time of that article, ITW had just reported its Q2 2018 results which reflected organic growth acceleration, strength/resilience of its business model, excellent operational execution and had just reported its most profitable first half of any fiscal year in its 100+ year history! ITW's share price, however, was knocked back from ~$147 to ~$136.
Now that ITW has released its Q4 and FY2018 results on February 1, 2019 and it also held its 2018 Investor Day on December 7, 2018 I thought it would be an opportune time to revisit ITW.
December 7, 2018 Investor Day
The following are ITW's 2023 Goals.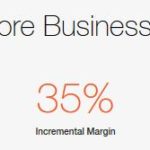 At ITW's Investor Day, senior management provided an update on the company's enterprise strategy and also provided preliminary guidance for 2019.
ITW's competitive advantage is its business model. This enables ITW to generate superior operation margins in its 7 reporting segments. The following images compare ITW's operating margins by business segments relative to its peers for FY2017 and FY2018; a listing of the companies in each segment's peer group is provided just below.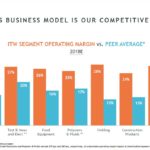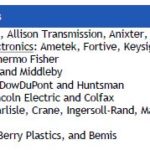 Source: ITW – Investor Day Presentation – December 7, 2018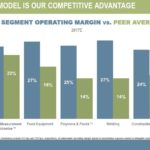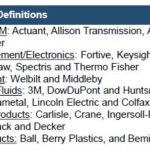 Source: ITW – Investor Day Presentation – December 1, 2017
In 2013, ITW launched its multi-year Enterprise Strategy consisting of:
Portfolio Disciplined in which it would only in industries where it could generate significant differentiated competitive advantage from the ITW Business Model over the long-term;
Quality of the 80/20 Front to Back Practice wherein ITW would operate with excellence in the practice of ITW's 80/20 Front to Back business management process everywhere in the company every day;
Provide Differentiated Performance with the goal of consistently delivering (1) solid growth with (2) full-potential margins and returns.
ITW's progress as at the December Investor Day is reflected below.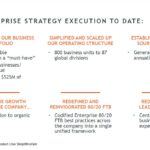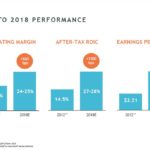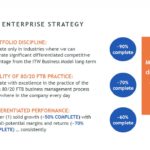 Source: ITW – Investor Day Presentation – December 7, 2018
By the time ITW completes this transformation in 2022 it expects to have achieved 1 – 2% of additional improvement in enterprise organic growth rate and 3 – 4% of additional structural margin improvement.
ITW has grown over its 105+ year history through acquisition and the plan is to make further acquisitions only if they will reinforce or further enhance ITW's organic growth potential.
This transformation does not only consist of acquisitions. ITW has identified the potential divestiture of 7 long-term growth-challenged divisions which currently generate ~$1B in revenue. This will naturally result in EPS dilution but the plan is to offset this dilution with incremental share repurchases. (cont'd.)
Please click here to read the complete version of this article.
Members of the FFJ community can access reports I generate on high quality companies which add long-term shareholder value. In an effort to help you determine whether my offering is of any value to you I am pleased to offer 30 days' free access to all sections of my site. No commitments. No obligations. That's 30 days from the time you register at absolutely no cost to you!
I wish you much success on your journey to financial freedom.
Thanks for reading!
Note: I sincerely appreciate the time you took to read this article. Please send any feedback, corrections, or questions to [email protected].
Disclaimer: I have no knowledge of your individual circumstances and am not providing individualized advice or recommendations. I encourage you not to make any investment decision without conducting your own research and due diligence. You should also consult your financial advisor about your specific situation.
Disclosure: I am long ITW.
I wrote this article myself and it expresses my own opinions. I am not receiving compensation for it and have no business relationship with any company whose stock is mentioned in this article.