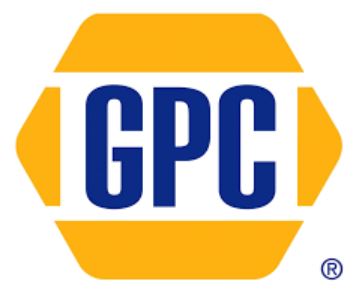 Genuine Parts Company (GPC) has increased its dividend for 63 consecutive years. This article looks at valuation based on FY2018 results and FY2019 guidance.
Summary
GPC has just released Q4 and FY2018 results, provided FY2019 guidance, and has increased its dividend for the 63rd consecutive year.
GPC failed in its efforts to extricate itself from the underperforming Business Products Group.
Strong Free Cash Flow generator a dramatic improvement in the cash conversion cycle (~133 days in 2004 reduced to ~47 days in 2018).
Shareholder friendly company.
When compared to current other top 30 holdings I am unlikely to increase my GPC exposure other than through the automatic reinvestment of dividends.
Valuation appears to be rich at current level.
Introduction
I initiated a 300 share position in Genuine Parts Company (GPC) on July 24, 2017 for the FFJ Portfolio and have subsequently been reinvesting all dividends.
GPC is currently not within my top 30 holdings and is unlikely to enter that group but I nevertheless view it as a long-term investment.
In my April 19, 2018 article I wrote that the ~18% pullback in the stock price subsequent to its late January 2018 high should be viewed as an opportunity to acquire shares in this company at a more reasonable valuation.
When I wrote my July 20, 2018 article, I no longer viewed GPC as being as attractive as 3 months prior. I was, however, of the opinion that shares were still reasonably valued based on the company's growth opportunities.
At the time of that July article, management indicated it was still continuing to work toward the closing of its definitive agreement to merge S.P. Richards with Essendant. Following GPC's announcement, however, Staples (owned by Sycamore Partners) stepped into the picture with an offer of its own for Essendant shareholder consideration.
Long story short, an affiliate of Sycamore Partners acquired Essendant. Staples, a Sycamore portfolio company and the world's largest workplace solutions provider, will work together with Essendant to give reseller customers access to an expanded product assortment, innovative technology and world-class supply chain capabilities and support. Essendant and Staples' sales teams will continue to operate separately.
So here we are, roughly 10 months following GPC's April 12, 2018 Press Release and GPC is still stuck with S. P. Richards. In my opinion, S. P. Richards adds little value to GPC and I certainly hope it can be spun off sooner rather than later.
Despite GPC's lack of success in spinning off S.P. Richards, GPC has been active on the acquisition front having announced various bolt-on acquisitions in 2018 and 2019 to expand its Automotive and Industrial segments.
Investor Presentations to accompany GPC's Quarterly and Annual Earnings Releases are rare. Nevertheless, GPC has an informative Investor Presentation (not dated) found on its website which provides investors with a good overview of the company; the current presentation was prepared before GPC discontinued its pursuit of Essendant late 2018 and before acquisitions made by GPC in late 2018 and early 2019.
As you can see from the following image extracted from GPC's Investor Presentation, the company is a serial acquirer.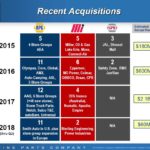 I pay close attention to the level of efficiency a company demonstrates when it comes to its working capital.
Note from the following images that GPC has made a considerable improvement over the past several years in how it manages its working capital; working capital efficiency appears to have improved to the extent where further improvement might be difficult. This perhaps explains why the efficiency ratio has hit a plateau at a low level.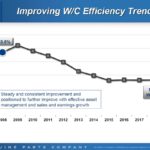 We also see that GPC has shortened its Days Inventory Outstanding and that Days Sales Outstanding has just risen slightly. Its Days Payables Outstanding, however, has skyrocketed from 39 days in 2004 to 104 days in 2018.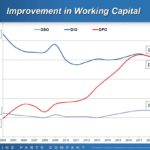 The following image shows how the cash conversion cycle has dropped from 133 days in 2004 to 47 days in 2018. This either means GPC is doing a great job now or was doing a terrible job back in 2004. Perhaps a combination of the two?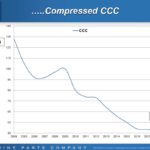 Investors should also pay very close attention to a company's Free Cash Flow (FCF) because FCF allows a company to pursue opportunities that enhance shareholder value. In addition, FCF is more difficult to manipulate than net income.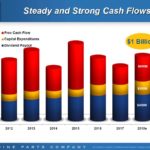 Source: GPC Investor Presentation
I fully recognize many investors will be attracted to GPC because of its track record of having increased its dividend for 63 consecutive years; on February 19, 2019 it announced a ~6% increase in its dividend ($2.88/share increased to $3.05/share).
A great many investors are probably currently acquiring GPC shares primarily based on GPC being part of the exclusive 'Dividend King' group of companies (50+ years of consecutive dividend increases).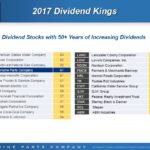 I don't mind investing in a company with such a track record but at the same time I, like you, want to ensure shares are fairly valued when I acquire them. Having said this, GPC's share price has been on a tear following the late December broad North American market pullback.
Q4 and FY2018 Financial Results
GPC's February 19, 2019 Earnings Release can be found here.
Global Automotive Group
US
Solid Q4 and FY2018 results with the Q4 sales increase driven by commercial and retail customer growth; the commercial segment represents 75% - 80% of total U.S. Automotive sales. (cont'd.)
Please click here to read the complete version of this article.
Members of the FFJ community can access reports I generate on high quality companies which add long-term shareholder value. In an effort to help you determine whether my offering is of any value to you I am pleased to offer 30 days' free access to all sections of my site. No commitments. No obligations. That's 30 days from the time you register at absolutely no cost to you!
I wish you much success on your journey to financial freedom.
Thanks for reading!
Note: I sincerely appreciate the time you took to read this article. Please send any feedback, corrections, or questions to [email protected].
Disclaimer: I have no knowledge of your individual circumstances and am not providing individualized advice or recommendations. I encourage you not to make any investment decision without conducting your own research and due diligence. You should also consult your financial advisor about your specific situation.
Disclosure: I am long GPC.
I wrote this article myself and it expresses my own opinions. I am not receiving compensation for it and have no business relationship with any company whose stock is mentioned in this article.