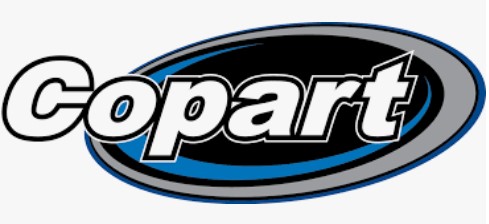 Copart, Inc. (CPRT) is a global leader in online vehicle auctions. Its innovative technology and online auction platform has more than 125,000 vehicles available online every day and it links sellers to more than 750,000 'members' in over 170 countries.
Summary
The complete write-off of newer and less damaged vehicles due to rising repair costs is a strong tailwind for Copart.
Demand for used cars, and interest in repairing them, varies on the basis of demand for brand new vehicles and their affordability.
New car sales peaked in 2015 and as 2, 3, and 4 year leases wind down, dealers are being flooded with more supply of used vehicles than they can effectively sell.
Copart is the industry leader when it comes to the use of technology.
The company consistently generates positive Free Cash Flow and has an attractive Balance Sheet.
Shares currently appear to be richly valued and given my sentiment on the overall market I am refraining from acquiring shares at this stage.
Introduction
Copart, Inc. (CPRT) is likely a company most readers do not have on their 'radar' as a potential investment. In its fiscal year ending July 31, 2018 it generated just in excess of $1.8B in revenue and for the 6 months ending January 31, 2019 it generated ~$0.946B in revenue. Its current market cap of ~$13.5B, however, places it in the universe of companies in which I am prepared to entertain as a potential investment (I do not invest in micro and small caps).
In conducting my analysis of CPRT I found it to have an attractive business model. I also like that it:
consistently generates positive Free Cash Flow (FY 2009 – FY2018: 124, 124, 173, 175, 69, 181, 186, 159, 320, and 247 – expressed in millions);
has a Gross Margin in the low 40% region and an Operating Margin in the low 30s (with the exception of 2013 and 2014 when it was 27% and 26.1%);
reported long-term debt/shareholders' equity of 27.3% as at the end of Q2 2019.
Historical Stock Performance
The past certainly does not predict the future. Nevertheless, it is still interesting to see how a company's stock performance has fared relative to various indices.
As you can see from the following images extracted from CPRT's 2018 Annual Report, CPRT's stock performance in FY2018 was dramatically superior to the benchmarks with which it is been compared.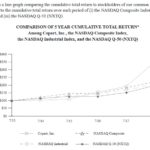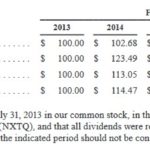 You can also access the NASDAQ site wherein you can set your own interactive graph metrics to determine how CPRT's stock price has performed.
Business Overview
CPRT, a global leader in online vehicle auctions, was incorporated in 1982 and became a publicly traded company in 1994.
It is a leading provider of online auctions and vehicle remarketing services with operations in the United States (U.S.), Canada, the United Kingdom (U.K.), Brazil, the Republic of Ireland, Germany, Finland, the United Arab Emirates (U.A.E.), Oman, Bahrain, and Spain.
CPRT is in the business of vehicle restoration, repair, and recycling; parts refurbishment and re-use; and facilitating the recovery and resilience of communities affected by severe climate events. It provides vehicle sellers with a full range of services to process and sell vehicles primarily over the internet through its Virtual Bidding Third Generation (VB3) internet auction-style sales technology.
This innovative technology and online auction platform has more than 125,000 vehicles available online every day and it links sellers to more than 750,000 'members' in over 170 countries.
CPRT's online platform coupled with its elevated marketing focus on international buyers has resulted in significant growth in bidding activity from international buyers.
The U.S. website is now translated into seven languages and there are elements of the website that accommodate languages native to 135 countries; CPRT currently sells from the U.S. into 147 countries.
Vehicle sellers consist primarily of insurance companies, and to a lesser extent, banks, finance companies, charities, fleet operators, dealers and vehicles sourced directly from individual owners.
CPRT sells vehicles principally to licensed vehicle dismantlers, rebuilders, repair licensees, used vehicle dealers and exporters and, at certain locations, to the general public. The majority of the vehicles sold on behalf of insurance companies are either damaged vehicles deemed a total loss or not economically repairable by the insurance companies, or are recovered stolen vehicles for which an insurance settlement with the vehicle owner has already been made.
A full range of services is offered to vehicle sellers that help expedite each stage of the vehicle sales process, minimize administrative and processing costs, and maximize the ultimate sales price.
In the U.S., Canada, Brazil, the Republic of Ireland, Germany, Finland, the U.A.E., Oman, Bahrain, and Spain, CPRT sells vehicles primarily as an agent and derives revenue primarily from fees paid by vehicle sellers and vehicle buyers, as well as related fees for services, such as towing and storage.
In the U.K. and Germany, it operates as an agent and on a principal basis wherein it will purchase salvaged vehicles outright and will then resell the vehicles for its own account.
In Germany and Spain, CPRT also derives revenue from listing vehicles on behalf of insurance companies and insurance experts to determine the vehicle's residual value and/or to facilitate a sale for the insured.
CPRT's VB3 auction platform is open to registered buyers (CPRT refers to them as 'members') throughout the globe where the internet is accessible.
Please click here to read the complete version of this article.
Members of the FFJ community can access reports I generate on high quality companies which add long-term shareholder value. In an effort to help you determine whether my offering is of any value to you I am pleased to offer 30 days' free access to all sections of my site. No commitments. No obligations. That's 30 days from the time you register at absolutely no cost to you!
I wish you much success on your journey to financial freedom.
Thanks for reading!
Note: I sincerely appreciate the time you took to read this article. Please send any feedback, corrections, or questions to [email protected].
Disclaimer: I have no knowledge of your individual circumstances and am not providing individualized advice or recommendations. I encourage you not to make any investment decision without conducting your own research and due diligence. You should also consult your financial advisor about your specific situation.
Disclosure: I do not currently hold a position in CPRT and do not intend to initiate a position within the next 72 hours unless the price drops to the level reflected in the 'Final Thoughts' section of this article.
I wrote this article myself and it expresses my own opinions. I am not receiving compensation for it and have no business relationship with any company whose stock is mentioned in this article.