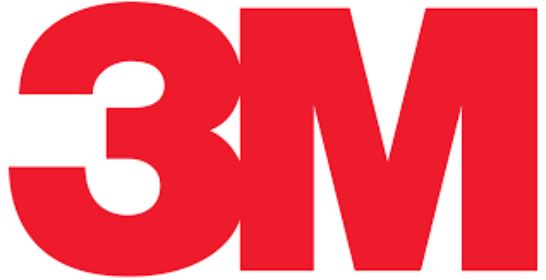 3M (MMM) released Q4 and FY2018 results and FY2019 guidance on January 29, 2019.
FY2018 guidance was lowered at the end of Q3 2018 and MMM met that lowered guidance.
FY2019 guidance provided at the November 15th Investor Day has now been revised lower.
Despite the lower guidance, MMM is expected to generate strong earnings and Free Cash Flow thus enabling the company to continue to repurchase share and increase its dividend (a dividend increase announcement is imminent).
I view MMM as being slightly overvalued and am of the opinion another market pullback will occur in the not too distant future at which time investors should be able to acquire MMM shares at a more attractive valuation.
Summary
MMM lowered its FY2018 EPS guidance when it released its Q3 2018 results in October.
FY2019 EPS guidance provided at its November Investor Day been lowered to $10.45 - $10.90 which still represents a 17.5% - 22.6% YoY increase from the $8.89 earned in FY2018.
The company consistently generates significant Free Cash Flow.
Another dividend increase is likely to be announced within the week which will mark the 60th consecutive year in which MMM has increased its dividend.
MMM is encountering headwinds and while it is projecting aggressive EPS growth I am of the opinion that it is not attractively valued.
A market pullback similar to that experienced in December should not be ruled out and if MMM's share price once again retraces to $180 or below I would consider acquiring additional shares.
Introduction
I previously covered 3M (MMM) in 'One of My Top 5 Largest Holdings Helps Me Sleep Well' and followed that up with 'Don't Give Up on This Great Company'. In my 'Don't Give Up' article, I listed various macro headwinds I expected we would encounter. This led me to believe that we would experience heightened volatility and opportunities in which to acquire MMM shares at more attractive valuations.
When I wrote my October 23rd article I indicated that I am already overweight MMM and would only be acquiring additional shares (low double digits quarterly) through the automatic reinvestment of the quarterly dividends. When MMM's share price plunged to the $180ish level just before Christmas, however, the attractive valuation proved too good to pass up. I, therefore, acquired just a few additional shares for one of our undisclosed retirement accounts.
With MMM having held its Investor Day in mid-November 2018 and having released Q4 and FY2018 results and FY2019 guidance on January 29, 2019 I am now taking this opportunity to revisit MMM.
November 2018 Investor Day
On November 15th, MMM's CEO introduced the company's priorities for the future and provided 5-year financial targets.
MMM - Long-Term Financial Objectives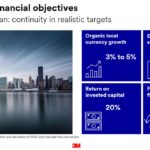 MMM - Investor Day Presentation - November 15 2018
Local currency growth targets by business during the 2019 - 2023 timeframe are:
Health Care: 4 – 6%
Safety & Graphics: 3 – 6%
Industrial: 3 – 5%
Electronics & Energy: 2 – 6%
Consumer: 2 – 4%
Overall total growth of 3 – 5% is forecast with target growth by region as follows:
USA: 3 – 4%
EMEA (Europe, Middle East, Africa): 2 – 4%
Asia Pacific: 4 – 7%
Latin America/Canada: 2 – 6%
Management has indicated that it is targeting a 200 - 300 bps operating margin improvement by 2023 with 100 - 200 bps to come from a gross margin improvement and ~100 bps to come from SG&A efficiencies.
Funding for MMM's future capital needs will come from:
Strong cash flow growth primarily from business growth and added cash flow from acquisitions: $55B - $65B;
Incremental net debt and a further optimization of MMM's capital structure and a reduction in the cost of capital: $5 - $15B.
Management has reiterated its commitment to dividend growth and share repurchases.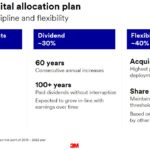 MMM - Balanced Capital Allocation Plan
FY2018 Outlook as at end of Q2 (July 24, 2018) and Q3 (October 23, 2018)
At the time of my July 24th article, MMM had just provided the following guidance:
GAAP EPS of $9.08 - $9.38 versus the previous $8.63 - $9.08 representing a 15% - 18% YoY increase;
Adjusted EPS of $10.20 - $10.45 versus the previous $10.20 - $10.55.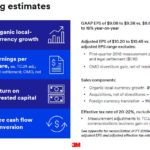 Source: MMM - Q3 2018 Earnings Presentation July 24 2018
When I wrote my October 23, 2018 article, MMM had just lowered its guidance:
GAAP EPS of $8.78 - $8.93 versus the previous $9.08 - $9.38 representing an 11% - 13% YoY increase;
Adjusted EPS of $9.90 - $10.00 versus the previous $10.20 to $10.45.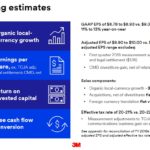 Source: MMM - Q3 2018 Earnings Presentation October 23 2018
Q4 and FY2018 Results
Let's see how the previous guidance compares with the actual FY2018 results MMM released on January 29th (cont'd.).
Please click here to read the complete version of this article.
Members of the FFJ community can access reports I generate on high quality companies which add long-term shareholder value. In an effort to help you determine whether my offering is of any value to you I am pleased to offer 30 days' free access to all sections of my site. No commitments. No obligations. That's 30 days from the time you register at absolutely no cost to you!
I wish you much success on your journey to financial freedom.
Thanks for reading!
Note: I sincerely appreciate the time you took to read this article. Please send any feedback, corrections, or questions to [email protected].
Disclaimer: I have no knowledge of your individual circumstances and am not providing individualized advice or recommendations. I encourage you not to make any investment decision without conducting your own research and due diligence. You should also consult your financial advisor about your specific situation.
Disclosure: I am long MMM.
I wrote this article myself and it expresses my own opinions. I am not receiving compensation for it and have no business relationship with any company whose stock is mentioned in this article.